Dr. Steve Maughan
Professor of History & Bernie McCain Chair in the Humanities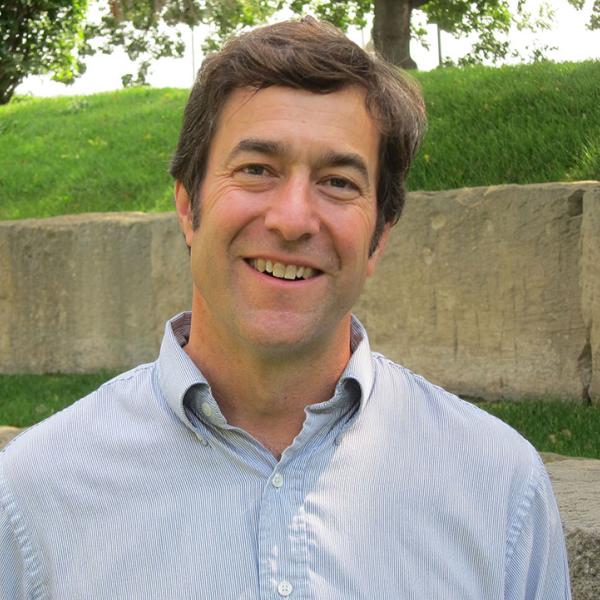 About
Dr. Steve Maughan
Expertise
Modern Britain, the British Empire, the culture of Victorian and Edwardian England, transnational history and foreign missions, Modern Europe  
Personal Statement
Appropriate to a historian, I like vintage. I own a vintage car, ride a vintage bike, have long served on a historic preservation commission, and I'm fascinated by arcane, antique, and unusual things, from books to words, to movies, to food, to artifacts, to pubs, and, yes, to people.
I earned my Ph.D. at Harvard University, completing the research for my dissertation at King's College London as a Fulbright Scholar. I've had the good fortune to return frequently to Britain both as a co-leader of the London course at the C of I and for my ongoing research which centers on religion, gender, class, race, and empire in Victorian Britain. From this work have come several book chapters and my recent book, Mighty England Do Good: Culture, Faith, Empire and World in the Missionary Projects of the Church of England, 1850-1915 (Eerdmans, 2014). 
My current research interests focus on gender, race, charismatic faiths, and competitive empires in Africa, India, and the Pacific, particularly in the expansion of Anglican Anglo-Catholic missions from the 1860s through the Great War, with a particular focus on the impact of high church Anglican sisterhoods on missionary methods and Victorian understandings of foreign cultures.
I am intrigued by the way that culture and religion structure people's perceptions of the world and their place in it, and have dedicated decades to understanding how and in what forms people of faith, primarily in the Church of England, transported their beliefs abroad with largely unexpected consequences: both damaging and empowering; both hierarchical and leveling; both exploitative and humanistic; both negative and positive, depending upon the uneven ground and complex intersections of position and power that operated within the experience of lived empire and subsequent decolonization.
I began teaching at The College of Idaho in 1992 and my regular courses include Western and World Civilization, Eighteenth-Century Europe, Nineteenth-Century Europe, Twentieth-Century Europe, Modern India, Modern European Intellectual History, Modern Britain, Empire, and World, 1650-1850, Modern Britain, Empire, and World, 1850-2000, and The Terror: Language, Radicalism and Violence in the French Revolution.
Professional Experience
Steve Maughan has taught courses on British imperial and urban history at Harvard University. He has been a member of the Caldwell Historic Preservation Commission for 19 years and on the board of the Caldwell Foundation for Educational Opportunity for 7 years. He served on the Idaho Humanities Council board from 1997-2004. In 2019 he was elected a Fellow of the Royal Historical Society.
Education
Ph. D., Harvard University
M. A., Harvard University
B.A., The College of Idaho
Publications
Mighty England Do Good: Culture, Faith, Empire and World in the Missionary Projects of the Church of England, 1850-1915. 
Grand Rapids: Eerdmans, 2014. Reviewed in 
American Historical Review
, 
Journal of Modern History
, 
Journal of British Studies
, 
Victorian Studies
, 
Anglican and Episcopal History
, 
Catholic Historical Review
, 
International Journal for the Study of the Christian Church
, 
Mission Studies
, and 
Church Times
. Selected review excerpts:  
Mighty England Do Good is an important and most scholarly contribution to the imperial history of Victorian religion as well as to the intellectual history of foreign missions. The intrinsic importance of its surprisingly neglected subject, the Church of England's multiple missionary organizations, is far from this study's only claim to attention. Maughan is a gifted intellectual historian whose exquisitely crafted narrative provides a welcome advance beyond the crude juxtaposition of sacred and profane that fueled past polemics. It is precisely by attending to ties that bind Anglican missions to the British Empire that Maughan succeeds in demonstrating "the power of religion and religious organization, as well as languages of faith, to convey meaning and spur action … in the 'high imperial' era" (xii). - Susan Thorne, Journal of British History
One of the notable successes of this study is its integration of gender into an analysis that accounts for women's historical move from a separate and "parallel church" to an amalgamated (if subordinate) status of mission labor. … Increasingly, women's voices and their majority in the workforce could not be ignored in the reinvention of missionary strategy, and Maughan credits women's work with the main causality of overall mission expansion while also underscoring the limitations and backlash they faced. - Elizabeth Prevost, Journal of Modern History      
Mighty England Do Good … is an impressively researched, sophisticated, and engaging book. It draws on a wide range of sources. Maughan is not primarily concerned with the fractious debate between those who argue that knowledge of empire was limited and not a strong force in British culture and others who insist empire was a foundational and constitutive part of British national identity. Instead, he examines how empire "radiated through" English culture and "influenced the surprisingly complex array of cultures, communities, and coteries that made up the multilayered, variable reality of lived empire" (10). - Pamela Walker, American Historical Review
All in all, Maughan's narrative is extraordinarily comprehensive; it will surely offer the definitive account of the history of Church of England missions for many years to come. A major triumph of synthesis, it effortlessly moves between mission and the turmoil and partisan conflicts of the domestic church, as well as the complexities of imperialism. It is hard to imagine that it will be bettered. - Mark Chapman, Victorian Studies
  "Sisters and Brothers Abroad:  Gender, Race, Empire, and Anglican Missionary Reformism, 1858–1875." In The Church and Empire, edited by Stewart J. Brown, Charlotte Methuen, and Andrew Spicer, 328-44, Studies in Church History, vol. 54. Cambridge: Cambridge University Press, 2018.
"Missions, British." In Encyclopedia of Protestantism, vol. 3, ed. Hans Hillerbrand, 1263–73. New York: Routledge, 2004.
"Imperial Christianity? Bishop Montgomery and the Foreign Missions of the Church of England, 1895–1915." In The Imperial Horizons of British Protestant Missions, 1880–1914, ed. Andrew Porter, 32–57. Grand Rapids: Eerdmans, 2003.
"Explorers, Missionaries, Traders." In Encyclopedia of European Social History, vol. 1, ed. Peter N. Sterns, 475-88. New York: Scribners, 2001.
 "An Archbishop for Greater Britain: Bishop Montgomery, Missionary Imperialism, and the Society for the Propagation of the Gospel, 1897–1915." In Three Centuries of Mission: The United Society for the Propagation of the Gospel, 1701–2000, ed. Daniel O'Connor, 358–70. London: Continuum, 2000.
"Civic Culture, Women's Foreign Missions, and the British Imperial Imagination, 1860–1914." In Paradoxes of Civil Society: New Perspectives on Modern German and British History, ed. Frank Trentmann, 199–222. New York: Berghahn, 2000.