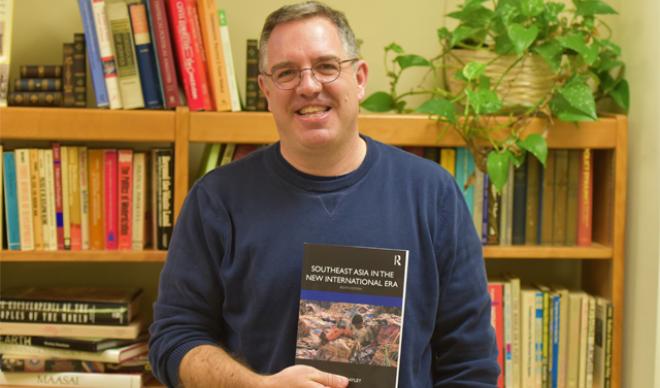 A project that began in graduate school continues to evolve for Robert Dayley, a professor of political economy at The College of Idaho.
Dayley's book "Southeast Asia in the New International Era" was recently released by Routledge Publishing. It was the eighth edition of the book and Dayley has had a hand in updating the book from the beginning, which dates back nearly 20 years. The book serves to lay out current events and current affairs for 11 countries in Southeast Asia.
The official description of the book, provided by the publisher, describes it as "This newly revised eighth edition of 'Southeast Asia in the New International Era' provides readers with contemporary coverage of a vibrant region home to more than 650 million people, vast cultural diversity, and dynamic globalized markets."
It started for Dayley while he was a graduate student at Northern Illinois University. His mentor, Dr. Clark Neher, was working on the original edition of the book and Dayley helped him with research and writing. The tandem worked together on editions two, three, and four before Neher retired. At that point, Dayley agreed to take over responsibility for updating the book, which is primarily used as an undergraduate textbook at colleges and universities in Asia, Europe, and North America.
"It's pretty much out of date a year or two after it is published because things are always changing," Dayley said. "There is some historical data that Dr. Neher had that is still in there, but it has been revamped, updated, and revised substantially."
Dayley, like Neher, gets help from students to research and prepare the updated editions of the book. Gavin McCaw, Kaytlyn Marcotte, Hadley Reeves, and Mahaday Sulong all contributed to this edition of the book. McCaw, Marcotte, and Reeves all graduated from the College in 2019 while Sulong is a senior this year.
The College of Idaho has a 129-year-old legacy of excellence. The College is known for its outstanding academic programs, winning athletics tradition and history of producing successful graduates, including seven Rhodes Scholars, three governors, and countless business leaders and innovators. Its distinctive PEAK Curriculum challenges students to attain competency in the four knowledge peaks of humanities, natural sciences, social sciences and a professional field—empowering them to earn a major and three minors in four years. The College's close-knit, residential campus is located in Caldwell, where its proximity both to Boise and to the world-class outdoor activities of southwest Idaho's mountains and rivers offers unique opportunities for learning beyond the classroom.  For more information, visit www.collegeofidaho.edu.