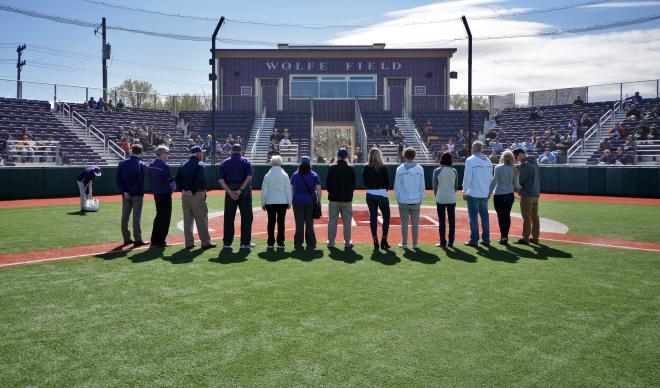 College of Idaho Trustee Tricia Baur walked through the entryway of Wolfe Field, crossing over to the newly completed courtyard named for her late husband, Dr. Gerald M. Baur '66, a C of I alumnus and former chair of the Board of Trustees. She looked down at the smiling face of her partner, forever immortalized in the stone in the very center of the courtyard — and smiled back.
"Gerry would have been so honored and humbled to know this place was in his name," Baur said. "I'm thrilled at how we've been able to make this design turn out so beautifully."
Baur was one of several dignitaries who arrived at Wolfe Field on a sunny April 13 for the official dedication of Wolfe Field's Phase Two. The long-term project, named for former C of I trustee Duane Wolfe '57, has been a collaboration between both the College and the City of Caldwell, which donated the land off Linden St. and Griffith Parkway for the field. The two entities have worked in tandem since 2008 on the $2.4 million project.
Wolfe Field has seen considerable growth since that initial investment, with the previous phase of the project already contributing a ProGrass infield, dugouts, backstop, scoreboard, outfield fence, electricity, and over 1,000 individual bleacher seats. Phase Two added several new amenities to the field, including the Gerald M. Baur Courtyard and Ed Osbourne Press Box, as well as concession stands and restrooms.
The new courtyard features a number of bricks donated by members of the C of I community, many of which are engraved with names and remarks. The bricks are arranged in the shape of a baseball diamond, with a likeness of Gerald Baur taking its place at the pitcher's mound in tribute of Baur's time as a pitcher on the C of I team.
Tricia Baur served as one of the designers of the new courtyard bearing her husband's name, saying that she was pleased with how it turned out and thankful to everyone involved in its completion, particularly Caldwell Mayor Garret Nancolas, C of I Director of Development Jack Cafferty '97 and C of I Trustee and major fundraiser Graye Wolfe, son of Duane.
"Without the help of everyone who supported this effort, this wouldn't have been completed," Baur said. "Working with them has exceeded all my expectations."
Graye Wolfe said it has been important to his family to give back to both the College and the Caldwell community in return for all that has been done for them. He said to see the project progress to its current state has been both a surreal and a humbling honor.
"It's been like running a marathon seeing this through to now," Wolfe said. "To see it like this is very rewarding. We owe all of our donors and all of the help we've received from the City of Caldwell a thank you. It's incredible to see what we've been able to accomplish."
Wolfe, Baur and Nancolas were each honored before the opening pitch of that afternoon's game against Lewis-Clark State — coincidentally, the same team present at the dedication for the completed bleacher seats in Spring 2015. Also among the day's honorees were former trustees and stadium supporters Mike Caughlin '74 and Dean Buffington '63 and representatives from R&M Steel, who helped in the construction of this phase of the project. Each of them were given commemorative Yotes jerseys to honor their commitment to the field's completion.
"Wolfe Field today is the top venue for baseball in Canyon County, and one of the top stadiums in all of the NAIA," said Mike Safford, C of I's director of sports communication and Voice of the Coyotes. "The field is truly one of the finest in the state of Idaho."
The College of Idaho has a 127-year-old legacy of excellence. The C of I is known for its outstanding academic programs, winning athletics tradition and history of producing successful graduates, including seven Rhodes Scholars, three governors, four NFL players and countless business leaders and innovators. Its distinctive PEAK Curriculum challenges students to attain competency in the four knowledge peaks of humanities, natural sciences, social sciences and a professional field—empowering them to earn a major and three minors in four years. The College's close-knit, residential campus is located in Caldwell, where its proximity both to Boise and to the world-class outdoor activities of southwest Idaho's mountains and rivers offers unique opportunities for learning beyond the classroom.  For more information, visit www.collegeofidaho.edu.