Michael Hartwell
Theatre Professor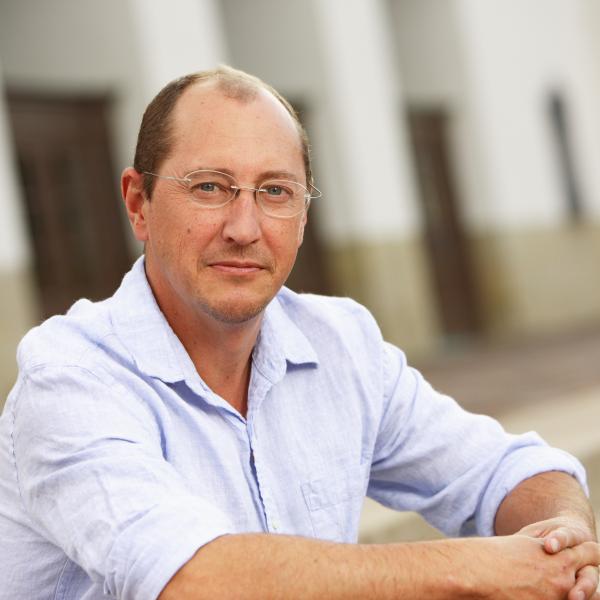 About
Michael Hartwell
Expertise
Stagecraft, Scenic Painting, Stage Management, Scenic & Lighting Design
Personal Statement
Grateful to be employed in a profession he is passionate about.
Michael taught his first Stagecraft class for The College of Idaho in 1997 as an adjunct instructor.  In 2000 he was hired as an Assistant Professor of Theatre and has designed and provided technical direction for almost every show since 1997. His scenic designs for The College of Idaho include: Vinegar Tom, The Marriage of Bette and Boo, Side by Side by Sondheim, Two Rooms, Lysistrata, The Good Person of Szechwan, Our Country's Good, The Rover, As You Like It, Fiddler of The Roof, Shivaree, The Tempest, What the Butler Saw, The Learned Ladies, Crimes of the Heart, Life and Limb (chosen as a participating production for the Kennedy Center/American College Theatre Festival Regional Conference) Madwoman of Chaillot, Season's Greetings, Romeo and Juliet. He has been the Technical Director for all the shows listed above as well as; History of Freaks, Macbeth, Ubu Roi, Rosencrantz & Guildenstern Are Dead, and Deadman's Cell Phone. Lighting design credits include; Ubu Roi and Lapis Blue Blood Red. Michael has also directed numerous productions for The College of Idaho; The House of Yes, Mineola Twins, Lone Star, Lapis Blue Blood Red, and The Passage. Besides stage craft Michael teaches courses in scenic design, scenic painting, stage makeup, stage management and directing.
Professional Experience
Beyond the academic environment Michael has worked at numerous professional theatres in the Boise area to include: 
Boise Contemporary Theater- design credits; Velocity of Autumn, Fully Committed, The Cripple of Inishmaan. Technical Direction; Norway, Animals Out of Paper, Last of the Breed, The Pillowman, Three Days of Rain. 
Idaho Shakespeare Festival; Production Manager (2001-2004), Technical Director (2005-2006) Designer of Shakespearience (2005-2007) Idaho Theatre for Youth (2003-2008). Opera Idaho; Technical Director, Faust (2009).  US Bank Home and Garden Show (2007, 2006).
Michael is co-owner of theatrical/graphic design company, Studio Twelve O2, specializing in design, construction, and technical installation.  
Education
M.F.A., University of North Carolina - Chapel Hill
B.S., Boise State University