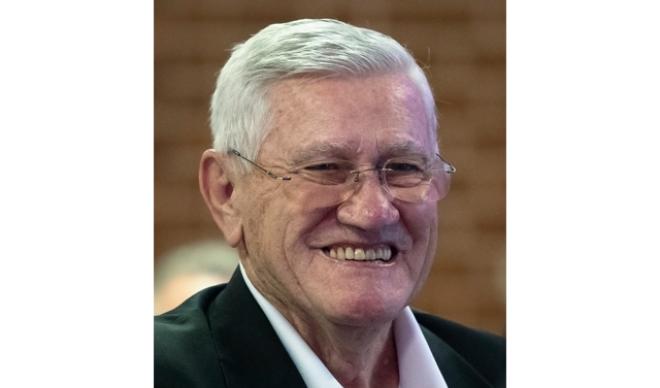 This story is included in the most recent issue of Quest Magazine, the College's twice-yearly Alumni publication. To view the entire issue online, or to view longer-form "Quest Extra" pieces, click here.
Throughout its 131-year history, The College of Idaho has excelled in athletics. From team success to individual champions, sports have always been integral to the close-knit campus family. 
Over the decades, many talented players and coaches have made a lasting impact on the College. One name that belongs on the shortlist of all-time Coyotes is that of Dick Carrow '54. 
Carrow arrived at the College during a golden age for Coyote athletics. He played point guard for the famed basketball teams of the early 1950s, helping run the Yotes' high-octane offense while throwing passes to future NFL receiver R.C. "Alley-Oop" Owens '58. 
"This was before anyone called it the alley-oop," Carrow told Quest in a 2010 interview. "But when teams would front R.C. in the post, I would throw him the high lob pass and he would stuff it."  
Fans of that era had seldom seen the exciting style of basketball Carrow and his teammates played. He carried that winning tradition with him during a successful career as a high school teacher and coach. His late wife and fellow C of I graduate, Margie, was also an educator. 
After coaching at Borah High in Boise, Carrow returned to his alma mater in 1962 as men's basketball coach. He led the Yotes for 16 seasons and ranks second all-time in games coached and third in wins. He recruited a couple of his Borah players to join him at the College, including Dick Powell '66. 
"Coach Carrow was a great mentor," Powell recalls. "It wasn't just about Xs and Os; he really cared about us as people and developing us as young men. Even when I didn't play well, he built me up and restored my confidence. I'll always remember that." 
When Marty Holly took over as coach in 1982, Dick and Margie embarked on an overseas adventure, working for the United States Sports Academy to promote youth athletics in Saudi Arabia. They eventually returned to Idaho, where they once again became regulars on The College of Idaho campus. 
"Coach Carrow is the reason I came to the C of I, and I owe him everything," said Jim Grigsby '82, who later served as chair of the Board of Trustees. "Not only my career as an athlete but also everything I accomplished personally and professionally. He's an amazing man—that's the kind of influence he had on people." 
For all Carrow's accomplishments as a player and coach, he is best known for the relationships he built.  In recognition of his dedication on and off the court, Carrow has been recognized with the Half-Century Life Achievement Award, the Golden Rule Humanitarian Award and a Meritorious Service Award. Today, the Dick Carrow Men's Basketball Scholarship is awarded to a player every year.   
"The College of Idaho is a family, and Dick has been a big part of that family for many years," said C of I Hall-of-Famer Steve Van Ocker '63. "He's always been so committed to his players. He coached us and made sure we got our degree, but it didn't end there. I've known him for 60 years now! I think that really speaks to what a great person Dick is, and to what makes the C of I such a special place."  
The College of Idaho has a 132-year-old legacy of excellence. The College is known for its outstanding academic programs, winning athletics tradition, and history of producing successful graduates, including eight Rhodes Scholars, three governors, and countless business leaders and innovators. Its distinctive PEAK Curriculum challenges students to attain competency in the four knowledge peaks of humanities, natural sciences, social sciences, and a professional field—empowering them to earn a major and three minors in four years. The College's close-knit, residential campus is located in Caldwell, where its proximity both to Boise and to the world-class outdoor activities of southwest Idaho's mountains and rivers offers unique opportunities for learning beyond the classroom. For more information, visit www.collegeofidaho.edu.