Why Study Spanish at The College of Idaho?
The Department of Spanish, formerly known as the Department of World Languages, Literatures, and Cultures, offers courses that center on developing communicative proficiency in reading, listening, speaking, and writing, as well as on increasing cultural awareness. Upper-division courses focus on literature, film, and culture and help students to develop analytical thinking, research, speaking, and writing skills.
Many students also enhance their major or minor through study abroad programs. The College offers faculty-led off-campus study programs in Spanish-speaking countries on a rotating basis. Students also study internationally for a semester or a year through approved program providers.
The College of Idaho's diverse community offers students the opportunity to interact regularly with native speakers. Approximately 11 percent of our student body consists of international students from more than 40 countries. The community surrounding the College also offers students access to native-speaking communities, as well as cultural events, internships, and volunteer opportunities.
Career Opportunities for Spanish Majors and Minors
Understanding multiple languages and cultures offers students many professional opportunities in today's global society. A foreign language major or minor prepares students for success in a variety of career fields and future endeavors: graduate studies, education, foreign service work, business, social work, public service, law, journalism, and health professions.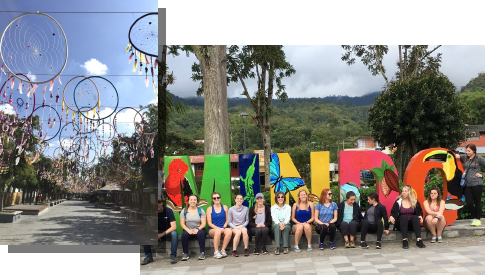 Study Abroad
For a semester or a year contact: [email protected]
Credits often fulfill Major or Minor requirements, especially in Spanish.
During January Term
Spanish faculty regularly lead study away during the January short term. Speak with Spanish Chair Dr. Jennie Daniels ([email protected]) for more details.
Opportunities to Study Abroad with The College of Idaho (PDF)