Dr. Luke Daniels
Biology Associate Professor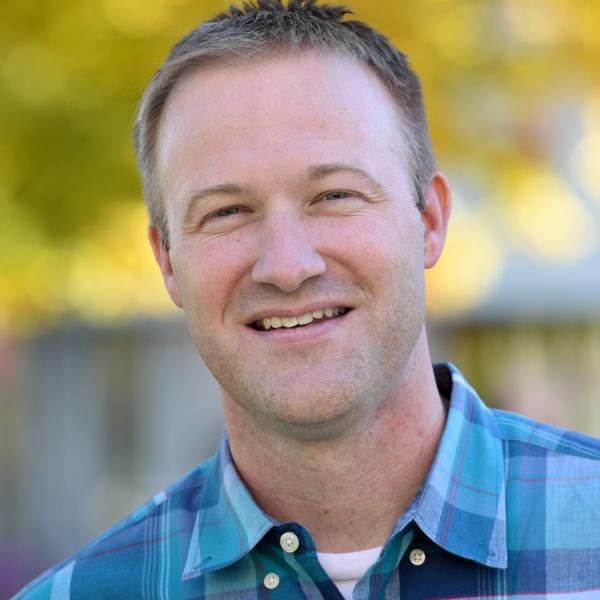 Personal Statement
Luke Daniels is an Associate Professor of Biology. He regularly teaches Introductory Biology, Neurobiology, Cell Biology, Genetics, Bioinformatics, and an introductory course called Drugs, Brains, and Behavior: An Introduction to Neuroscience. This past year, he co-developed and led an interdisciplinary study abroad course in Ecuador: Spanish for Health Care Practitioners.
Professor Daniels' scholarly interests include sensory biology—especially the processes that allow organisms to detect physical and chemical stimuli in their environment. The goal of Professor Daniels' current research is to understand cellular signaling in brain tumors such as glioblastoma multiforme. Professor Daniels regularly works with students in collaborative research projects, and his lab has received funding from the National Institutes of Health, the M.J. Murdock Charitable Trust, and the Mountain State Tumor Institute. Students in the Daniels lab use a number of techniques in their research, including cell culture, molecular biology, fluorescence microscopy, live cell calcium imaging, and computer analyses of biological data (bioinformatics).
Professor Daniels believes that hands-on experiences are an important aspect of science education. He has led projects that have competitively awarded College of Idaho membership into two national teaching consortiums, the Howard Hughes Medical Research Institute Science Education Alliance and the Cold Spring Harbor Laboratory RNA-Seq for the Next Generation project. These projects allow students to participate in authentic research experiences in the classroom, and have resulted in students identifying new microorganisms and receiving co-authorship credit in peer-reviewed scientific articles.
Professor Daniels enjoys the close-knit, collaborative atmosphere among faculty and students at the College of Idaho. He lives with his wife and two young sons, and in his free time enjoys mountain biking and skiing.
Professional Experience
Prior to arriving at the College of Idaho in 2009, Professor Daniels completed a B.S. in Biology at Seattle Pacific University and a Ph.D. in Neuroscience at the University of Southern California. An assortment of other experiences have contributed to his personal and professional development, including working in the biotechnology industry, adjunct teaching, travelling in Central and South America, and summer jobs in construction while in high school and college. Professor Daniels has authored or co-authored 15 conference abstracts, 7 peer-reviewed journal articles, and 23 GenBank records, and was a 2014 Finalist in the Alan Alda Center for Communicating Science Flame Challenge.
Education
Ph.D. Neuroscience, University of Southern California, 2009
B.S. Biology, Seattle Pacific University, 2001
Publications
  *Cresawn, Steven G., Welkin Pope, Deborah Jacobs-Sera, Charles Bowman, Daniel Russell, Rebekah M. Dedrick, Tamarah Adair, Kirk R. Anders, Sarah Ball, Dave Bollivar, Caroline Breitenberger, Sandra H. Burnett, Kristen Butela, Deanna Byrnes, Kathleen A. Cornely, Richard L. Daniels, David Dunbar, Ann M. Findley, Chris R. Gissendanner, Urszula P. Golebiewska, Grant A. Hartzog, J. J. Robert Hatherill, Lee E. Hughes, Chernoh S. Jalloh, Sphindile L Khambule, Rodney King, Christina King Smith, Karen Klyczek, Greg P. Krukonis, Christian Laing, Jonathan S Lapin, A. Javier Lopez, Sipho M. Mkhwanazi, Sally Molloy, Vanisha Munsamy, Eddie Pacey, Kimenthrie Pillay, Ruth Plymale, Marianne Poxleitner, Nathan Reyna, Joel Schildbach, Joseph Stukey, Sarah B. Taylor, Vassie C. Ware, Amanda L Wellmann, Daniel Westholm, Thabiso S. Zikalala, Roger W. Hendrix, Graham F. Hatfull. Comparative Genomics of Cluster O mycobacteriophages. PLOS ONE, March 5, 2015. 10(3): e0118725.
  *Pope, W.H., Bowman, C.A., Russell, D.A, Jacobs-Sera, D., Asai, D.J., Cresawn, S.G., Jacobs Jr., W.R., Hendrix, R.W., Lawrence, J.G., Hatfull, G.F., Science Education Alliance Phage Hunters Advancing Genomics and Evolutionary Science*, Phage Hunters Integrating Research and Education, Mycobacterial Genetics Course. Whole genome comparison of a large collection of mycobacteriophages reveals a continuum of phage genetic diversity. eLife, April 28, 2015. 107554/eLife.06416.   (This paper, as a collaborative effort among various member institutions of the Howard Hughes Medical Institute Science Education Alliance, lists College of Idaho students and faculty as co-authors: Cervantes, J.C., Chase, A.M., Goodwin, M.L., Hampton, M.K., Kinder, M.N., Lambright, J.R., Mendez, E., Montgomery, G.D., Schultz, K.N., Wilson, T.L., Auces, A.M., Dockstader, P.A., Hoang, H.L., Kolich, L.R., Stevens, M.M., Tachick, S.J., Koga, A.P., and Daniels, R.L.)
  *Knowlton, W.M.*, Daniels, R.L.*, Palkar, R.*, McCoy DD, and D.D. McKemy, Pharmacological Blockade of TRPM8 Ion Channels Alters Cold and Cold Pain Responses in Mice. PLOS ONE, September 30, 2011. 6(9): e25894.   (These authors contributed equally to this work.)
  *Daniels, R.L. and D.D. McKemy, Design and Construction of a Two-temperature Preference Assay for Undergraduate Neuroscience Laboratories. The Journal of Undergraduate Neuroscience Education (JUNE), Fall 2010. 9(1):A51-A56.
  *Daniels, R.L., Takashima, Y., and D.D. McKemy, The activity of the neuronal cold sensor TRPM8 is regulated by phospholipase C via the phospholipid phosphoinositol-4,5-bisphosphate. Journal of Biological Chemistry, November 18, 2008.  284(3):1570-1582.
  *Daniels, R.L. and D.D. McKemy, Mice left out in the cold: commentary on the phenotype of TRPM8-nulls. Review. Molecular Pain, 2007. 3(23).
  *Takashima, Y., Daniels, R.L., Knowlton, W., Teng, J., Liman, E.R., and D.D. McKemy, Diversity in the Neural Circuitry of Cold Sensing Revealed by Genetic Axonal Labeling of Transient Receptor Potential Melastatin 8 Neurons. Journal of Neuroscience, December 19, 2007. 27(51):14147-14157.