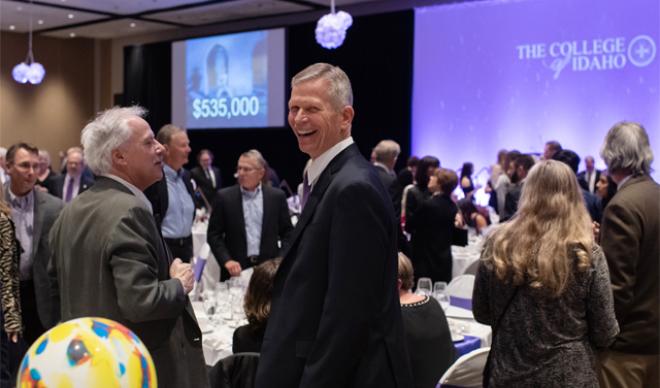 The 2020 Scholarship Gala has done it.
With the gracious support of nearly 600 attendees, The College of Idaho's annual event set another new record, raising over $540,000 that will go toward student scholarships.
"It was a terrific night that surpassed all of our expectations," said Jack Cafferty, the College's Vice President of College Relations. "Our generous alumni and friends of the College continue to surprise us with their generosity towards our students."
Friday's event, themed "Purple Reign," packed the Centre on the Grove in downtown Boise and the ensuing auction raised over $50,000 more than 2019's record-setting total.
"Our students are the best and brightest around and it's clear that this community recognizes their incredible talents," Cafferty said. "There was no doubt, it was a great night to be a Yote."
The annual Scholarship Gala is the College's biggest night of giving of the year. Alumni, friends and supporters of the College came to enjoy a formal night out, enjoying one another's company as they bid in live and silent auctions, participated in prize raffles, and met with the very students their gifts go on to support. One of those students, Hannah DalSolgio, stood in front of the entire room and told all of the College's guests how scholarships have made it possible for her to pursue her dreams.
Click here to view a gallery of photos from the 2020 Scholarship Gala.
The College of Idaho has a 129-year-old legacy of excellence. The College is known for its outstanding academic programs, winning athletics tradition and history of producing successful graduates, including seven Rhodes Scholars, three governors, and countless business leaders and innovators. Its distinctive PEAK Curriculum challenges students to attain competency in the four knowledge peaks of humanities, natural sciences, social sciences and a professional field—empowering them to earn a major and three minors in four years. The College's close-knit, residential campus is located in Caldwell, where its proximity both to Boise and to the world-class outdoor activities of southwest Idaho's mountains and rivers offers unique opportunities for learning beyond the classroom.  For more information, visit www.collegeofidaho.edu.