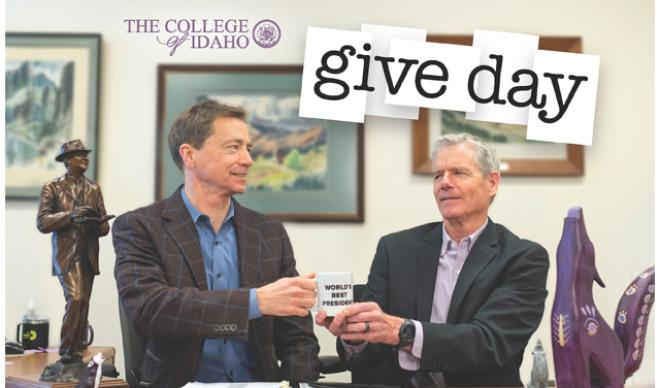 The sixth-annual "Give Day" event at The College of Idaho raised $282,396 for programs, facilities, and departments across the campus.
A large portion of the funds raised will go to the Boone Fund, an unrestricted fund that can be allocated to the most pressing needs. Nearly $130,000 of the day's proceeds will be available to be used for scholarships, student programs, maintenance of the campus, and facilities as needed.
"We're incredibly lucky to have the support of alumni, staff, faculty, parents, and friends of the College and it was evident in our results from Give Day this year," said Hayley Kindall '13, the College's Director of Annual Giving. "So many people came together to make a huge impact on multiple scholarships and campus causes."
Give Day happens once each year and is a 24-hour event for alumni, students, friends, and the entire community to support and celebrate the College.
One way that supporters and businesses choose to celebrate the College is by setting up a "match" to a specific program or cause on campus. A match is a donation pledged by a "match donor" to double, and in some cases triple, donations made by the public up to a set amount. The amount of the pledge that must be paid by the "match donor" is often contingent upon the total donations received from the public in response to the campaign, which is what makes matches so important and exciting.
Nick Hampton '14 established a matching gift to the Pat McCurry Track and Cross-Country Fund. The match enabled the fund to become fully endowed, which means the funds are now available to the College's track and cross-country programs. Bill '67 and Mary Clark '68, Jane Houston '70, and an anonymous donor matched up to $10,000 which helped to generate over $25,000 for new lights and specimen cabinets for the Orma J. Smith Museum of Natural History. Bob Plumb '73 established a "match challenge" for graduates of the past 15 years, which encouraged 60 young alumni to contribute.
The College of Idaho has a 130-year-old legacy of excellence. The College is known for its outstanding academic programs, winning athletics tradition, and history of producing successful graduates, including seven Rhodes Scholars, three governors, and countless business leaders and innovators. Its distinctive PEAK Curriculum challenges students to attain competency in the four knowledge peaks of humanities, natural sciences, social sciences, and a professional field—empowering them to earn a major and three minors in four years. The College's close-knit, residential campus is located in Caldwell, where its proximity both to Boise and to the world-class outdoor activities of southwest Idaho's mountains and rivers offers unique opportunities for learning beyond the classroom. For more information, visit www.collegeofidaho.edu.