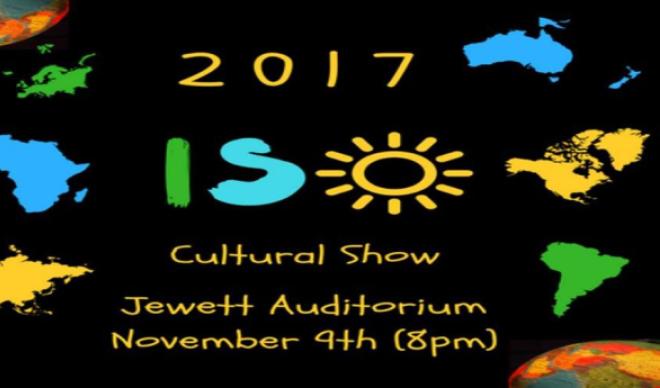 The College of Idaho's International Student Organization will make the Jewett Auditorium the site of a multicultural celebration with its annual ISO Cultural Show, which will take place at 8 p.m. on Thursday, Nov. 9.
The popular show, which features a variety of performances from the College's extensive international population, is one of ISO's flagship events, with months of planning and preparation going into each of the show's featured acts. Students from all around the world will have the opportunity to share their respective cultures with the campus at large through song, dance, skits and more.
"Join us for a night of cultural expression, hilarity, and a great learning experience all round," said C of I junior Irvin Brown, ISO's president. "Our international students are eager to share pieces of their cultures with you and we hope that you are just as excited to be there."
ISO is one of the largest student organizations on campus, representing about 8.5 percent of the College's undergraduate population. Students from 47 countries are involved in ISO activities, including the Cultural Show.
Senior mathematics major Leo Trujillo of Venezuela is one of several performers who will take the stage on Thursday. Trujillo will join with a band of other Latin American students to perform a couple of different songs, with Trujillo himself playing the drums.
"I try to get involved with ISO as much as I can," Trujillo said. "I'm excited to help out with the show. Back home, most parties are about dancing to Latin music. It will be fun to help bring that feeling here."
For the international students themselves, having the opportunity to show their classmates some of the traditions from their homelands is a great way to become closer with their American friends.
"To me, being part of the international community at C of I feels like being a part of one big family that is united by love and peace," said C of I sophomore Welile Simelane of Swaziland. "It is a true embodiment of what the perfect world would be like, people from different backgrounds united despite their differences in race, ethnicity, religion, culture, and sexuality."
The show is free to attend and is open to all ages.
The College of Idaho has a 125-year-old legacy of excellence. The C of I is known for its outstanding academic programs, winning athletics tradition and history of producing successful graduates, including seven Rhodes Scholars, three governors, four NFL players and countless business leaders and innovators. Its distinctive PEAK Curriculum challenges students to attain competency in the four knowledge peaks of humanities, natural sciences, social sciences and a professional field—empowering them to earn a major and three minors in four years. The College's close-knit, residential campus is located in Caldwell, where its proximity both to Boise and to the world-class outdoor activities of southwest Idaho's mountains and rivers offers unique opportunities for learning beyond the classroom. For more information, visit www.collegeofidaho.edu.