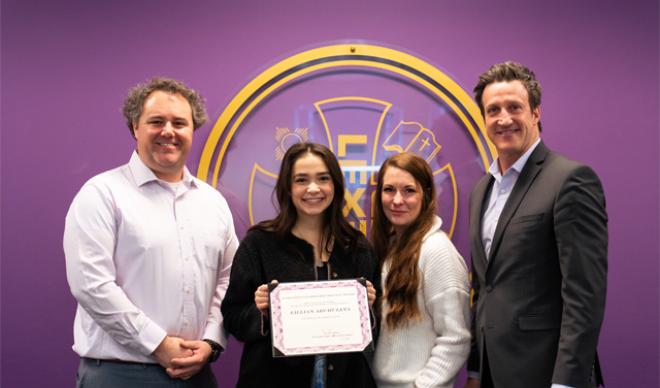 Lily Archuleta, a senior majoring in psychology, was recognized as the winner of the Integrity, Leadership and Service Award for the Fall 2022 term at The College of Idaho.
"Receiving this award is an honor, especially considering the past recipients who I think so highly of," said Archuleta, a Dean's List student from nearby Nampa, Idaho. "I'm truly appreciative of all of the freedom I have been given to act on my passions and make an impact on my community. To have that work recognized by these individuals who I look up to so much is just the icing on the cake."
The Student Affairs Division recognizes one student each semester for their important contributions to the College's culture. The award is given to students nominated by staff and faculty as someone who best embodies the values of the College community. Those values include community, integrity, leadership, and service. Archuleta was nominated by Matt Gier, director of residence life, and Natalie Davison, director of the health & wellness center.
"Lillian Archuleta is an exemplary student who not only makes the most of her educational experience, but is committed to service and involvement to help her peers make the most of theirs, as well. Lily is a bright, positive energy on campus," Davison and Gier wrote in their nomination. "Lily's involvement ensures her smile travels across campus departments, and especially events. Lily's work as a campus admissions ambassador, learning coach, wellness center and student affairs intern, president of Active Minds, lead peer health advocate, and leader in her sorority, are just a few ways she goes above and beyond to be a sun-shiny energy in her community. Through this work, I have observed Lily's strengths of self-determination, passion for service, and a strong commitment to values and ethics.
"Lily goes above and beyond specifically to ensure equitable experiences of students with disabilities or who are navigating mental health concerns or diagnoses. Lily advocates in a diplomatic and social-justice oriented way that allows staff, faculty, and students to all feel comfortable learning from her. Lily has done amazing work assisting her peers with accessing resources, creating safety plans, developing coping mechanisms, navigating Title IX cases, and being a support during crises. Lily can go from running community awareness-building programs to working with a student 1-1 flawlessly. Wellness Center endeavors would not have the same impact without Lily's community work and leadership on efforts such as Suicide Prevention Awareness, disAbility Day during diversity week, Active Minds VAR (validate, appreciate, refer), DeStress Fest, lactation room research, and her advocacy on senate that resulted in the funding of additional virtual psychiatry visits for the student body- among so many others! Lily is an incredible role model for her peers and is very helpful to our staff. Lily takes every service opportunity given to her and works beyond expectations to make the most of it. The impact of her work has changed campus, and her ripple will continue after her graduation."
The College of Idaho has a 132-year-old legacy of excellence. The College is known for its outstanding academic programs, winning athletics tradition, and history of producing successful graduates, including seven Rhodes Scholars, three governors, and countless business leaders and innovators. Its distinctive PEAK Curriculum challenges students to attain competency in the four knowledge peaks of humanities, natural sciences, social sciences, and a professional field—empowering them to earn a major and three minors in four years. The College's close-knit, residential campus is located in Caldwell, where its proximity both to Boise and to the world-class outdoor activities of southwest Idaho's mountains and rivers offers unique opportunities for learning beyond the classroom. For more information, visit www.collegeofidaho.edu.