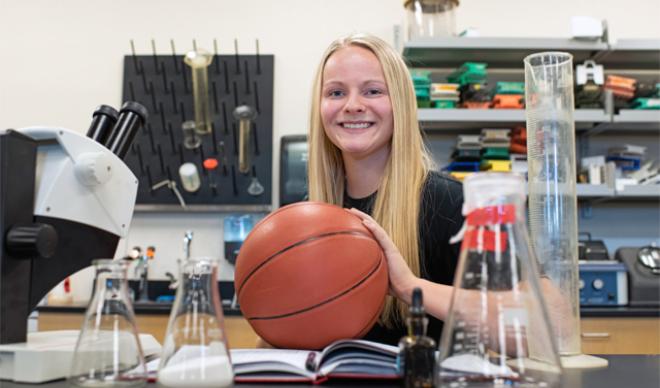 Organic chemistry often involves the synthesis of organic products by chemical reaction. College of Idaho senior Emily Harwood never expected she would develop a synthesis between a basketball career and organic chemistry research when she first arrived at the school, but one organically occurred anyway.
"If you would have asked me last year that I would do research for organic chemistry, I would have laughed at you," said Harwood.
A biomedical science major, Harwood plans to go to PA school and become a physician assistant after she graduates. She transferred to the College in 2018 to play basketball and is still having a large impact on the court. She's the second-leading scorer on the team and recently recorded a double-double (points and rebounds) in a win against then-undefeated Northwest Christian. But Harwood is a not only a leader on the court but also on campus too. She is the president of the Omicron Delta Kappa National Honor Society chapter on campus. Being recognized as an exemplary student and being involved on campus opened up another opportunity for her last year.
Harwood was approached in a hallway by chemistry professor Dr. Scott Truksa after her biochemistry final in the spring. Truksa asked her to do research with him over the summer. "I was like, you do remember having me in your lab last semester," Harwood recalled replying to the offer. Harwood was surprised that he asked her. Researching organic chemistry is very difficult and takes a big commitment.
"He convinced me that he believed in me and that I could do it. And then I literally had so much fun over the summer and learned so much," said Harwood. "I'm thankful for him pushing me to do it."
"I think that's what all C of I teachers do is that they expect a lot out of you, even more than you think you can give."
Truksa knew that Harwood would be able to do the research based on what he had seen in the lab and what he knew of her as a person and a basketball player. "I was looking for someone committed, responsible and mature," said Truksa. "She had all those attributes."
Their research over the summer was on how a particular reaction operates. "It's called a mechanism and the mechanism is what bonds break first and how many steps are in a reaction," said Truksa. The organic chemistry research was funded through the Murdock Foundation grant. Both Harwood and Truksa worked 40 hours a week for eight weeks building their research through controlled trial and errors. "I just fell in love with it," said Harwood, who continued the work into the fall semester by running more free radical reactions.
In November, Harwood took that research and presented it at the Murdock College Science Research Conference in Vancouver, Washington.
Throughout the summer research experience, Truksa witnessed confidence building in Harwood and improvement in her ability to learn and make things happen faster. "It takes a lot of perseverance and a mindset that this will work and we will make it work," said Truksa.
It's a little like basketball and making the shot. "In the end you have to have that skill and that takes practice," said Truksa.
Across the country, not many undergraduate students are given the chance to do research. However, it happens often at the College. Harwood believes the skills she has learned researching organic chemistry can be transferable to her degree and makes her stand out as a biomedical student.
"Coming here was probably the best decision of my 22 years so far," said Harwood. "The doors keep opening."
The College of Idaho has a 129-year-old legacy of excellence. The C of I is known for its outstanding academic programs, winning athletics tradition and history of producing successful graduates, including seven Rhodes Scholars, three governors, and countless business leaders and innovators. Its distinctive PEAK Curriculum challenges students to attain competency in the four knowledge peaks of humanities, natural sciences, social sciences and a professional field—empowering them to earn a major and three minors in four years. The College's close-knit, residential campus is located in Caldwell, where its proximity both to Boise and to the world-class outdoor activities of southwest Idaho's mountains and rivers offers unique opportunities for learning beyond the classroom.  For more information, visit www.collegeofidaho.edu.