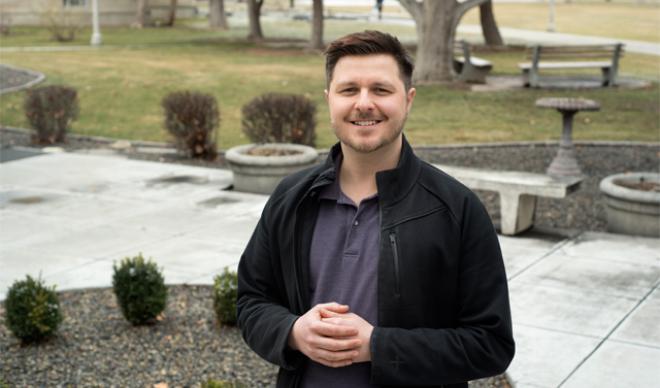 Sean Blackwell admits he's a bit nervous to see himself in a documentary on Idaho Public Television on Tuesday night. He may be a little bit more nervous about what comes after.
"I was just told a few days ago this is going national," said Blackwell, an instructor of anthropology and sociology at the College who specializes in criminal justice.
Blackwell is one of the subjects in the documentary "Resilient Idaho: Hope Lives Here" that airs Tuesday night on Idaho Public Television (channel 4 in the Boise valley). After it airs on IPTV in Idaho on Tuesday at 8 PM (Mtn), it will appear on PBS "World" on Friday at 10:00 PM. The show will be available on-demand as well as other showings on IPTV and on other PBS stations. The documentary was produced by 2C Kids Succeed, an initiative comprised of local leaders and community members to build a healthy and resilient community for children. Blackwell is a member of the group's board and also appears in the documentary, exploring how he survived childhood trauma.
He says, for him, the importance is that these stories don't originate elsewhere. They originate here. 
"I want locals to see locals," he said. "Everyone in this documentary is someone in Idaho."
The documentary outlines adverse childhood experiences (ACEs) and offers a message of hope despite adversity. A deeper explanation of the documentary can be found here.
"It's okay to have been through trauma, there's no shame in having survived these adverse situations," said Blackwell. "Those don't have to define you, there's hope on the other end of that."
The documentary demonstrates that hope. A woman who was sexually molested is now a successful therapist with two Master's degrees. A man overcame a childhood surrounded by violent gang culture to become the executive director of Breaking Chains Academy of Development in Nampa, which helps other children and adolescents break the chain of gang violence and find educational opportunities for a better future.
There's also Blackwell, who embraces mentorship opportunities that his job, his background, and his experiences afford him.
"I'm working my dream job, I'm working at The College of Idaho and there's nowhere else I'd rather be," Blackwell concluded. "So, in spite of the things I went through, and maybe in some ways because of them, I am literally living my dream."
The College of Idaho has a 130-year-old legacy of excellence. The College is known for its outstanding academic programs, winning athletics tradition, and history of producing successful graduates, including seven Rhodes Scholars, three governors, and countless business leaders and innovators. Its distinctive PEAK Curriculum challenges students to attain competency in the four knowledge peaks of humanities, natural sciences, social sciences, and a professional field—empowering them to earn a major and three minors in four years. The College's close-knit, residential campus is located in Caldwell, where its proximity both to Boise and to the world-class outdoor activities of southwest Idaho's mountains and rivers offers unique opportunities for learning beyond the classroom. For more information, visit www.collegeofidaho.edu.