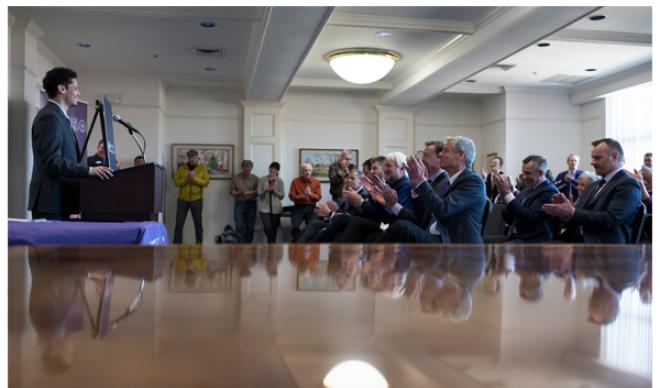 Blue Cross of Idaho is already known for its mission to build a healthier Idaho, especially within the healthcare industry. On Friday, Blue Cross of Idaho extended its reach and impact to the whole health of body and mind as it committed to funding two full-tuition Heritage Scholarships at The College of Idaho.
The Heritage Scholarship is a competitive scholarship, designed for highly-qualified students with exemplary academics, and provides full tuition for the duration of the student's time at the College. A maximum of five scholarships are awarded in each incoming class. Blue Cross of Idaho has committed to funding two Heritage scholarships over a total of 12 years, a commitment of $804,000.
WATCH the entire announcement event or you can see a shorter version here.  There is also a gallery of photos from the event available online.
"The College and Blue Cross have had a great relationship for the past 73 years and it says so much about Blue Cross as an organization that they would make this kind of commitment to higher education in Idaho," said Co-President Doug Brigham. "When Co-President Jim Everett and I met with Charlene and explained how we are trying to fund our scholarships like the Heritage scholarship, Charlene immediately jumped in and said Blue Cross wanted to help – it was absolutely amazing."
"Blue Cross of Idaho is pleased to partner with the College of Idaho to make a long-term investment in the young men and women of Idaho," said Charlene Maher, President and CEO of Blue Cross of Idaho. "It's important we keep our future leaders – our entrepreneurs, CEOs, inventors and doctors – here in Idaho. We are looking forward to the scholarship recipients accomplishing great things across our state and around the globe."
These Blue Cross Heritage scholars will be joining a community of students at the College of Idaho in which nearly every student receives some sort of financial aid. Among those is Devin Gaskins, a senior from Mountain View high school in Meridian, Idaho, who has demonstrated his commitment to healthcare over his four years in Caldwell and recently learned of his acceptance to medical school at the University of Washington. Gaskins spoke at the news conference to thank Blue Cross of Idaho for their willingness to help the exceptional learning that takes place at The College of Idaho.
"The scholarship being signed today is going to wipe away worries for so many of our future students," Gaskins said. "It's going to grant them the freedom and confidence to pursue whatever field of study they want, and know that they're going to the best school for it. Blue Cross of Idaho's generosity is going to open the door to the next generation of future artists, politicians, engineers, teachers, and, like myself, doctors."
College of Idaho graduates are particularly successful in the healthcare field, as 85-percent of its medical school applicants are accepted, the highest rate in Idaho and one of the highest in the entire western United States.
The first Blue Cross Heritage Scholarship was awarded earlier in the week to Bishop Kelly graduate Timmer Verhaegh, who plans to study the health care field and wants to attend medical school after his four years at The College of Idaho.
"My family and I are immensely grateful for this opportunity from the College of Idaho and Blue Cross," said Verhaegh. "I am honored to be the first recipient of this scholarship and I look forward to the years to come."
The College of Idaho is the longest standing client with Blue Cross of Idaho, having been in partnership since November of 1946.
About The College of Idaho
The College of Idaho has a 128-year-old legacy of excellence. The C of I is known for its outstanding academic programs, winning athletics tradition and history of producing successful graduates, including seven Rhodes Scholars, three governors, and countless business leaders and innovators. Its distinctive PEAK Curriculum challenges students to attain competency in the four knowledge peaks of humanities, natural sciences, social sciences and a professional field—empowering them to earn a major and three minors in four years. The College's close-knit, residential campus is located in Caldwell, where its proximity both to Boise and to the world-class outdoor activities of southwest Idaho's mountains and rivers offers unique opportunities for learning beyond the classroom. For more information, visit www.collegeofidaho.edu. 
About Blue Cross of Idaho
Blue Cross of Idaho, a not-for-profit mutual insurance company based in Meridian, Idaho, is a leader in delivering innovative health insurance products, services and information to more than 564,450 members. For 74 years, the company has advocated on behalf of its members to ensure they have access to high-quality healthcare at the lowest possible cost. It also serves the people of Idaho through support of community organizations, programs and events that promote good health. Blue Cross of Idaho is an independent licensee of the Blue Cross and Blue Shield Association. For more information, visit bcidaho.com.