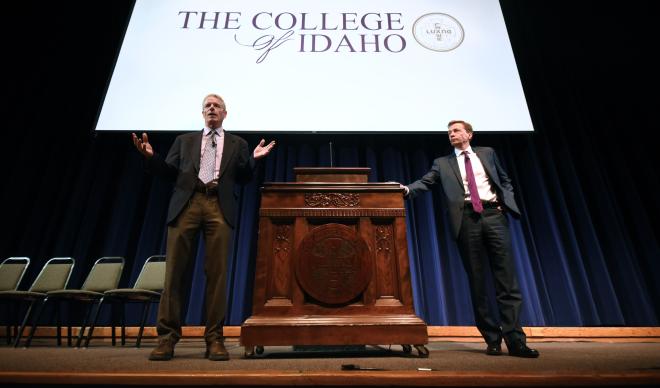 The College of Idaho has appointed two highly successful business and non-profit leaders to the office of President to lead the state's oldest private college into the future. Former President of TitleOne Corporation Doug Brigham and the former CEO of the Treasure Valley YMCA Jim Everett have been selected as the Presidents of The College of Idaho. The appointment was finalized by a unanimous Board of Trustees vote of approval on Friday, Feb. 23.
"I am thrilled to have the opportunity to work with Doug and the great team at The College of Idaho," said Everett. "Over the years, any success I have been associated with has been the result of a team effort. Dr. Bob Hoover has positioned us well, and Doug and I are excited and grateful to build upon the outstanding work Bob has done."
"The College of Idaho is a special place and I am humbled to have the opportunity to serve as Co-President and to work with someone of the caliber of Jim Everett," said Brigham, "someone I've known for close to 30 years."
The selection of Co-Presidents, while unique in higher education, is perfectly suited to the needs of the College at this time. The College's Presidential Search Committee had identified Brigham and Everett as two top individual candidates among a diverse pool of traditional and non-traditional candidates. When the pair reframed their individual candidacies as a co-presidential team, the Search Committee was intrigued by this innovative approach and the candidates' shared vision for the College.
After a series of in-depth discussions with the candidates and broad consultation, the Search Committee concluded the considerable and complementary skill sets of Brigham and Everett distinguished them from the remaining candidates and unanimously recommended to the Board of Trustees that both serve as President.
"Both Doug and Jim were remarkable individual candidates with strong leadership skills and deep knowledge and love for the College," said C of I Board of Trustees Chair Laura Turner. "We are incredibly fortunate to be able to have this team lead us into the future. Their resolve to serve the College in a fiscally responsible manner is amplified by their proposal to share one presidential compensation package. This is not a compromise, this is a deliberate choice of two very gifted candidates who proposed a partnership. It is precisely what the College needs at this point in its history."
"Jim and Doug's shared vision and team approach will invite fresh perspectives and ensure merit-based decision making," said Shawna Swanson, Chair of the Presidential Search Committee. "In a collaborative environment, the best idea in the room wins. I am excited that the College is embracing this innovative approach."
Everett joined the financially struggling Boise branch of the YMCA with 3,000 members in 1987. Over the course of the next 40 years, he worked to transform it into a thriving organization comprised of six new facilities serving more than 57,000 members across the Treasure Valley. The accolades he earned along the way are too numerous to list in a single news release, but include St. Luke's Light of Philanthropy, CEO of Influence, the Idaho Statesman Distinguished Citizen of the Year, Big Brother of the Year, Salvation Army Citizen of the Year, and many others. Everett's proven skills in fundraising include successful capital campaigns in which the Y raised more than $100 million, and the rapid expansion of facilities under his leadership included one of the first Y camps built in the US during the last 50 years. He retired as CEO of the Treasure Valley YMCA in 2016 after more than 29 years at the helm, leaving the organization with net assets of more than $42 million.
"It is always about building relationships," said Everett. "I look forward to how we can match people's interests and philanthropic dreams with our needs to make this fabulous C of I educational experience even more accessible to the future leaders of our state, nation and world."
Brigham is a 1987 graduate of The College of Idaho who went on to earn an MBA from Boise State University. He had a successful 20-year career in financial and operational leadership with Washington Group International (formerly Morrison Knudsen Corporation), serving as Corporate Treasurer, Corporate Controller, before finishing his career as Senior Vice President for Operations & Maintenance. In 2008, he joined TitleOne Corporation as one of the company's employee owners. During Brigham's tenure TitleOne became one of the premier regional title & escrow agents in the western United States. The company now has 14 offices throughout the state of Idaho, employs 225 team members, and has been named one of the top ten "Best Places to Work in Idaho" in the large employer category for six consecutive years. Brigham maintained close contact throughout this period with The College of Idaho, teaching courses in finance, serving on the Board of Trustees, and leading the Board as Chair from 2015 through 2017.
"I've been fortunate enough to work with an incredible team at TitleOne," said Brigham, "but when your alma mater calls, you can't turn them down. Like many small colleges, we have challenges that include the need for innovation, adaptation and growth, but I can't wait to work with Jim and our amazing faculty, staff, and students to meet those challenges."
For his part, Everett graduated from a small, liberal arts college in Michigan, Albion College, in 1974 and was the first swimmer inducted into the Albion Hall of Fame. Like Brigham, Everett maintained close contact with The College of Idaho over the years, serving first on the Board of Trustees and, upon retirement, joining the College as head coach of the swim team. This shared commitment routinely brought the two men together. Although they had taken quite different career paths – one in a for-profit industry and one in non-profit – each displayed the remarkable ability to create a vision, build a team, and engage an organization in the community. Their initial success in working together generated mutual respect for each other's skills and a trust in each other's leadership capacity, and over time this developed into a remarkably effective partnership. They learned that working together produced even more success than could be achieved separately.
"We believe that two people working full time with passion and a common purpose is the right thing for this moment in the College's history," Everett said. "It is always inspiring to see what can be accomplished when teams come together around an aspirational, shared vision."
Turner emphasized the important work of former president Bob Hoover over the past several months for the College. "The Board of Trustees is deeply indebted to Bob Hoover for coming out of retirement to serve as our Interim President," she said.  "We appreciate the sacrifice both Bob and Leslee made in agreeing to return to our College community and wish them the best as they return to their well-deserved retirement."
Doug is married to Beth Brigham, also a graduate of the C of I. The two have three grown children.
Jim and his wife Linda have been married for 44 years. They have two adult sons, two grandchildren and a third on the way.
The presidents will officially take office on April 2. This will give them the opportunity to meet with faculty, staff and students to gain momentum before the summer break.
The College of Idaho has a 127-year-old legacy of excellence. The C of I is known for its outstanding academic programs, winning athletics tradition and history of producing successful graduates, including seven Rhodes Scholars, three governors, four NFL players and countless business leaders and innovators. Its distinctive PEAK Curriculum challenges students to attain competency in the four knowledge peaks of humanities, natural sciences, social sciences and a professional field—empowering them to earn a major and three minors in four years. The College's close-knit, residential campus is located in Caldwell, where its proximity both to Boise and to the world-class outdoor activities of southwest Idaho's mountains and rivers offers unique opportunities for learning beyond the classroom.  For more information, visit www.collegeofidaho.edu.