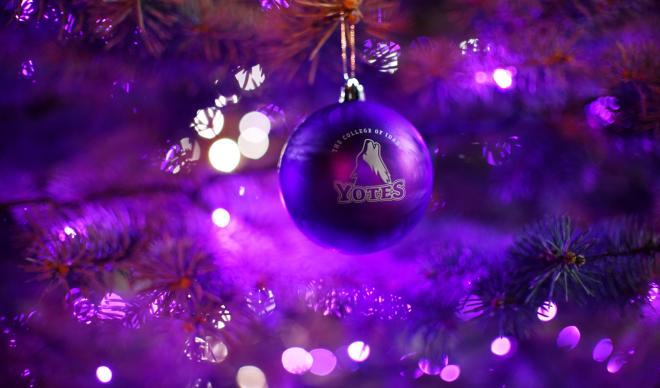 The College of Idaho's Morrison Quadrangle will soon brighten with shining purple lights to ring in the start of the holiday season as the College celebrates its 5th Annual Holiday Tree Lighting at 7 p.m. on Monday, Nov. 27.
The tradition has been a regular event for the College's alumni relations department for several years, bringing together both current students and local alumni to celebrate the beginning of the upcoming winter holidays. While many years have over seen cold weather and flurries of snow, it hasn't stopped crowds of Yotes to gather around the tree outside Sterry Hall, which is decorated with strings of purple lights and other decorative ornaments.
This year, the ceremony will feature holiday themed refreshments, including warm drinks and sweet desserts, with the College's Major Sixth Vocal Ensemble and the Alumni and Friends Choir performing traditional carols. The choirs will lead the attendees in the College hymn as the lights are officially turned on.
Visitors will also get to bring home commemorative keepsake ornaments to decorate their own holiday trees with following the ceremony.
Directly following the ceremony, the Alumni and Friends Choir will lead attendees to the Jewett Chapel, where they will perform a short candlelit concert of holiday classics to close the evening.
The ceremony and following concert are both free to attend and open to the public.
"The tree lighting is one of our favorite events during the year," said Sally Skinner, director of alumni and parent relations. "It's such a great opportunity to celebrate the entire C of I family — students, alumni, families, and the Caldwell community. It's always a fun evening."
The College of Idaho has a 125-year-old legacy of excellence. The C of I is known for its outstanding academic programs, winning athletics tradition and history of producing successful graduates, including seven Rhodes Scholars, three governors, four NFL players and countless business leaders and innovators. Its distinctive PEAK Curriculum challenges students to attain competency in the four knowledge peaks of humanities, natural sciences, social sciences and a professional field—empowering them to earn a major and three minors in four years. The College's close-knit, residential campus is located in Caldwell, where its proximity both to Boise and to the world-class outdoor activities of southwest Idaho's mountains and rivers offers unique opportunities for learning beyond the classroom.  For more information, visit www.collegeofidaho.edu