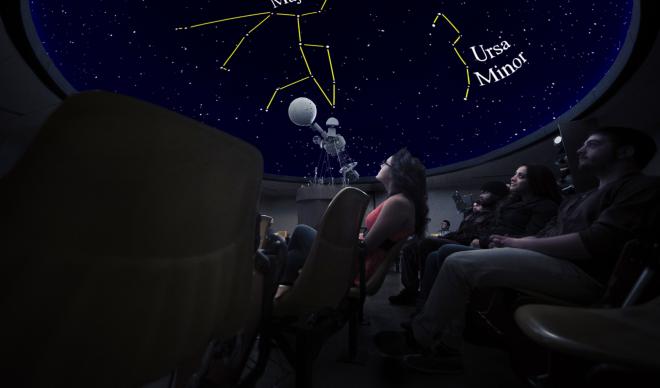 The College of Idaho Math Club is partnering with the Discovery Center of Idaho and the Orma J. Smith Natural History Museum to host Astronomy Day 2018 festivities starting at 6:30 p.m. on Saturday, April 21 in the Boone Science Building, hosting a family-friendly event centered on celebrating the night sky.
From 6:30-9:30 p.m., a number of activities will be held throughout both Boone Hall and the Morrison Quadrangle encompassing astronomy, science, math and computer science. This includes a special appearance by the Takodana Base of the Rebel Legion, a group of Star Wars cosplayers. The Orma J. Smith Natural History Museum will also be open at this time.
Weather permitting, telescope viewing will begin on the Quad at 9:30 p.m., giving visitors the chance to look up at the stars and pick out constellations. The event will end at 11:30 p.m. Visitors are encouraged to dress warmly.
This event is free and open to the public.
The College of Idaho has a 127-year-old legacy of excellence. The C of I is known for its outstanding academic programs, winning athletics tradition and history of producing successful graduates, including seven Rhodes Scholars, three governors, four NFL players and countless business leaders and innovators. Its distinctive PEAK Curriculum challenges students to attain competency in the four knowledge peaks of humanities, natural sciences, social sciences and a professional field—empowering them to earn a major and three minors in four years. The College's close-knit, residential campus is located in Caldwell, where its proximity both to Boise and to the world-class outdoor activities of southwest Idaho's mountains and rivers offers unique opportunities for learning beyond the classroom.  For more information, visit www.collegeofidaho.edu.