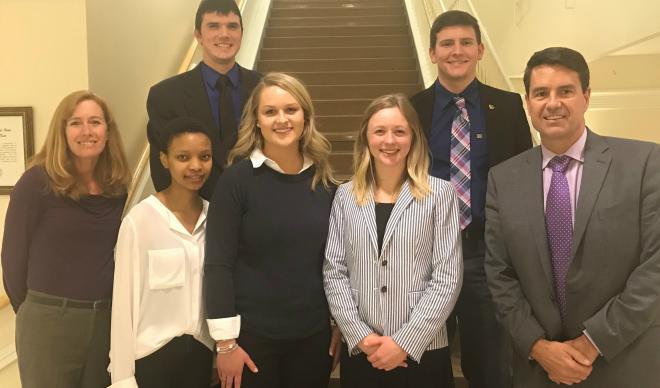 College of Idaho junior accounting major Maddy Kelly is no stranger to competition — as an All-American swimmer currently competing at the NAIA Swimming and Diving National Championships in Columbus, Georgia with Top 5 ranked times in three different events, she has thrived. However, what she didn't realize until last school year is how she could also use her knack for finance and accounting in competition as well.
Kelly had learned from C of I business and accounting professor Rick Goodwin of the College's Chartered Financial Analyst (CFA) Institute Research Challenge team, a team of five finance students who work every school year to research and analyze a pre-selected publicly traded company to prepare an in-depth valuation of their stock. Teams work with both the company's management as well as certified Idaho CFAs to present both a written and oral presentation to a panel of industry professionals, who grade them on the content of their analysis.
"I had never heard of any type of academic competition like that before, let alone for finance," Kelly said. "Honestly, at the time I didn't really know what he was talking about, but I said okay."
Kelly would go on to be this year's team leader of the College CFA team.  She worked together with fellow business students Nosipho Dube, Clayton Kreps, Emily Hamilton and Michael Hazen since November 2017 to prepare a thorough stock valuation on Idaho-based potato company Lamb Weston. The C of I group competed against four other Idaho schools for the opportunity to move forward from the local level to the regional and national levels.
"You start seeing students getting excited about finance," said Goodwin, who has been the faculty advisor of the team the last four years. "I think C of I has made tremendous strides in the ability to do financial evaluation at this level, and we're engaging with valuation models that are doing more than just scratching the surface."
The CFA Institute Research Challenge started in 2002 with only five teams from the New York area. Since then, the competition has grown to involve teams from over 900 universities in more than 75 countries. Finance students can compete on their respective teams only once during their undergraduate years, which means the College fields five new students on the team each year.
Goodwin said the competition is an opportunity for the students to gain real world experience in financial analysis, giving them a leg up as they approach the business world with an emphasis in financial studies.
"The reason it works so well for students in the long run is because it's an awesome thing to have on your resume," Goodwin said. "If you're applying for a job in finance in the Treasure Valley and you have this experience, then you're going to be someone who has a step up. CFAs know how hard students in this competition work."
The C of I students worked together to apply the knowledge they've gathered in the classroom to the real world of financial evaluation, attending presentations from company leaders, poring over quarterly earnings, and working with local CFA mentor Molly Guenther to produce as accurate an evaluation as possible. The group produced their written material from their first meeting in November all the way up to two weeks before their oral presentation, which they presented on Feb. 15. 
The group faced off against teams from Brigham Young University-Idaho, Northwest Nazarene University, Idaho State University and Boise State University, hosting each team on the C of I campus for the final oral presentation. Competition — just the way Kelly liked it.
"This was a new experience for me," Kelly said. "I have worked in group projects before, but nothing this extensive. I enjoyed mixing my competitiveness with academics because I had never had the chance to do that before."
Although the C of I team did not win the local event (which saw BYU-I come away with the victory), Goodwin said the team had made the best showing yet in his four years advising the, giving him hope for future teams to carry on from their example.
"BYU-I did a really great job and they had amazing models, but I think what I particularly am proud of for our team this year is that they were able to answer questions in the judge's Q&A session with a lot of depth. I think the diverse insight of our students certainly helped with this, and I think this can be attributed to the College's PEAK program."
Because the team must shift out its members each year, Goodwin said he has already begun recruiting finance students for next year's competition among students in his upper-division financial courses.
"I've been able to tune my upper level class around investment theory and allow my students to practice some of the modeling that's used in competition," Goodwin said. "Since I've been privy to some of the latest and greatest techniques, I can bring that into the classroom and be able to help coach good presentation skills alongside the technical requirements."
For Kelly, it was a great opportunity not only to prove herself against other schools, but also learn more about her field of study.
"I not only learned the fundamentals of financial analysis, but also how to complete a project from start to finish with other team members," she said. "We started from scratch and finished with an amazing product. I now feel more confident in my plans to pursue accounting after college."
The College of Idaho has a 127-year-old legacy of excellence. The C of I is known for its outstanding academic programs, winning athletics tradition and history of producing successful graduates, including seven Rhodes Scholars, three governors, four NFL players and countless business leaders and innovators. Its distinctive PEAK Curriculum challenges students to attain competency in the four knowledge peaks of humanities, natural sciences, social sciences and a professional field—empowering them to earn a major and three minors in four years. The College's close-knit, residential campus is located in Caldwell, where its proximity both to Boise and to the world-class outdoor activities of southwest Idaho's mountains and rivers offers unique opportunities for learning beyond the classroom.  For more information, visit www.collegeofidaho.edu.