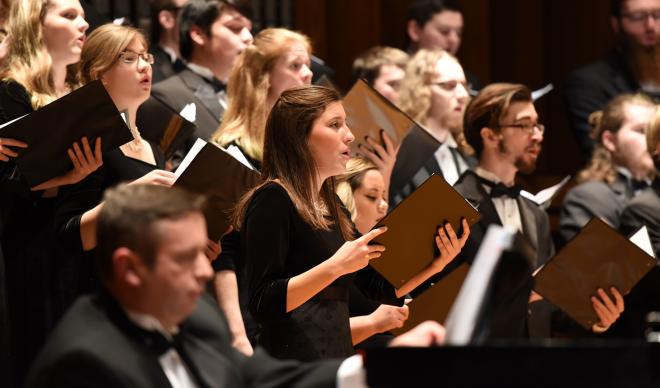 The College of Idaho's choirs will present their annual fall concert at 7:30 p.m. on Wednesday, Oct. 10 in the Langroise Recital Hall, promising a wide range of dynamic choral works from both classical and modern-day composers.
"This showcase will take concertgoers on a musical journey from Renaissance Italy, to the era of Impressionism in Paris, and on to the best of contemporary composition – including the works of Daniel Elder and Eric Whitacre," said Dr. Brent Wells, C of I associate professor of music and director of choral activities.
The fall concert will include performances from three of C of I's vocal ensembles, including Chorale, Chamber Singers and Major Sixth, as well as guest violinist Courtney Kelly. The concert will include a sneak peek at some of the repertoire the choirs will take to Italy later this year on the program's annual Choir Tour.
Wells said the range of time periods represented includes Italian madrigals by Renaissance composers Jacob Arcadelt and Claudio Monteverdi, Romantic-era music by Claude Debussy, and critically-acclaimed contemporary composers including Elder, Whitacre, Daniel Pinkham and Peter Anglea. Each selected piece falls into the concert's overarching theme of reflection and romance, from contemporary settings of William Shakespeare to Pinkham's "Wedding Cantana" and Whitacre's "Five Hebrew Love Songs."
The concert is free to attend and open to the public. For more information about the College's music programs, visit https://www.collegeofidaho.edu/academics/departments/music.
The College of Idaho has a 127-year-old legacy of excellence. The C of I is known for its outstanding academic programs, winning athletics tradition and history of producing successful graduates, including seven Rhodes Scholars, three governors, and countless business leaders and innovators. Its distinctive PEAK Curriculum challenges students to attain competency in the four knowledge peaks of humanities, natural sciences, social sciences and a professional field—empowering them to earn a major and three minors in four years. The College's close-knit, residential campus is located in Caldwell, where its proximity both to Boise and to the world-class outdoor activities of southwest Idaho's mountains and rivers offers unique opportunities for learning beyond the classroom.  For more information, visit www.collegeofidaho.edu.