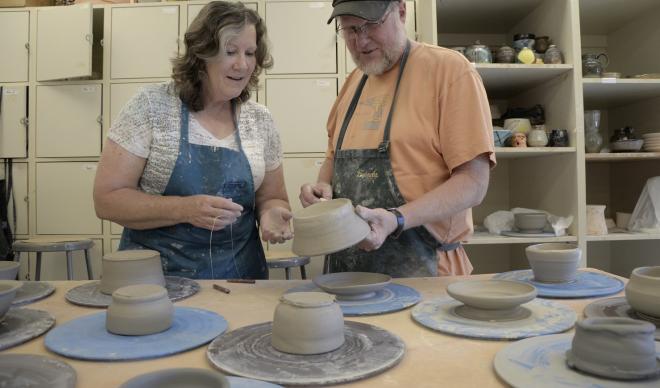 School will be in session for students at The College of Idaho later this month, but our undergrads aren't the only ones who are invited to learn something new this fall thanks to the return of C of I Community Learning classes starting this September.
C of I's Community Learning classes have proved popular since their introduction, allowing for students of all ages to pick up new skills, kickstart their professional development, and experiment with new hobbies without the stress of homework, tests or grading. This fall's lineup features more than 30 sessions of on-campus classes, with even more professional development options online.
"Without the community's interest, we wouldn't be here today," said Rebecca Wilhite, C of I's Director of Special Programs. "We're very grateful to the community for the opportunity to continue to grow the classes we offer and reach new audiences."
Wilhite said the wide variety of classes offered through Community Learning means there is something to interest every student. For the artistically inclined, Wilhite said pottery has been a popular option for both kids and adults, with this fall's session starting on Sept. 25 and running each Tuesday through Oct. 23. And for the lovers of outdoor recreation, the time for fishing is never over with the inclusion of an ice fishing class currently scheduled for Nov. 13 and Nov. 15.
Among some of this fall's new offerings include one-day only classes like "Voice-Overs: NOW is YOUR TIME," which introduces students to the world of voice-overs and broadcasting for commercials, films and videos, as well as multi-day beginners workshops in the use of Adobe Photoshop and Microsoft Excel, among other classes in the categories of personal enrichment and professional development.
Also returning are special leadership workshops through Community Learning's Executive Education program, including two sections for supervision leadership — the first session lasting from Oct. 23-25 and the second from Nov. 27-29.
Registration is open now for select classes. For more details, visit www.cofifun.com or contact Rebecca Wilhite at [email protected].
The College of Idaho has a 127-year-old legacy of excellence. The C of I is known for its outstanding academic programs, winning athletics tradition and history of producing successful graduates, including seven Rhodes Scholars, three governors, and countless business leaders and innovators. Its distinctive PEAK Curriculum challenges students to attain competency in the four knowledge peaks of humanities, natural sciences, social sciences and a professional field—empowering them to earn a major and three minors in four years. The College's close-knit, residential campus is located in Caldwell, where its proximity both to Boise and to the world-class outdoor activities of southwest Idaho's mountains and rivers offers unique opportunities for learning beyond the classroom.  For more information, visit www.collegeofidaho.edu.