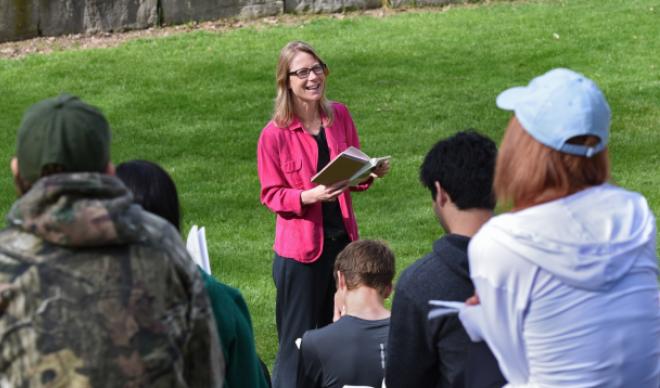 Born on July 12, 1817 in Concord, Massachusetts, Henry David Thoreau lived a full and fascinating life. Thoreau's political writings went on to inspire future leaders in Martin Luther King Jr. and Mahatma Gandhi, and his naturalist writings and transcendentalist thought took a stronghold in American popular culture, with his books, articles, and decades of journals and essays remaining widely read, analyzed and enjoyed today.
Over the last year, Thoreau aficionados and scholars alike have gathered worldwide to celebrate Thoreau's continued legacy in the context of Thoreau's 200th birthday — including Dr. Rochelle Johnson, Professor of English and Environmental Studies at The College of Idaho. The renewed international interest in Thoreau thanks to the bicentennial led Johnson into participating in what she called "a year-and-a-half blitz" of Thoreau scholarship, resulting in her producing numerous essays, lectures and classes in the Treasure Valley and well beyond, including a keynote lecture earlier this month in Sweden.
"The fascinating thing about literary scholarship is that we uncover significant new understandings even of authors who have been dead and deeply studied for 150 years," Johnson said. "All this recent work is based on new thinking I've been doing and on new readings of Thoreau's life and work. We're recovering elements of his life that we haven't attended to."
Johnson currently serves on the board of directors for the Thoreau Society, an organization of Thoreau researchers and admirers that hosts annual gatherings in Concord each summer and produces a quarterly newsletter and an annual journal of scholarly work devoted to Thoreau. The society also hosts special panels featured at conferences of the Modern Language Association and American Literature Association that Johnson has helped to organize over the last seven years alongside Dr. Kristen Case of the University of Maine.
Johnson's years of Thoreau scholarship and her regular activity with the Thoreau Society led to numerous requests from the academic community for essays and presentations about Thoreau over the last year to coincide with the bicentennial. This included a collaboration with Dr. Samantha Harvey from Boise State University for a piece in Cambridge University Press' "Thoreau at Two Hundred: Essays and Reassessments", and a forthcoming essay in "The Blackwell Companion to American Literature."
Presentations on Thoreau also kept Johnson moving throughout the United States and beyond, including to the Thoreau Society Annual Gathering in Concord, the Modern Language Association Conference in Philadelphia, the Huntington Library in San Marino, California, Bucknell University, and Lyon, France. Most recently, she delivered one of two keynote lectures at the "Uses and Abuses of Thoreau at 200," an International Symposium in Gothenburg, Sweden.
"That talk in particular was very meaningful to me because of the way the conference was themed," Johnson said of her time in Sweden. "I personally needed to think about Thoreau's own grappling with what he saw as the cultural violence that's inflicted by political abuse, and with how his work in this regard might help us now in the world we live in."
Johnson worked toward her presentations throughout a full schedule of teaching Thoreau material throughout last fall, both at the undergraduate level at the C of I as well as with 125 adult learners at Boise's Osher Institute of Lifelong Learning. Fall 2017 marked the first time in nearly two decades Johnson taught a class at the C of I exclusively on Thoreau, organized specifically to mark the bicentennial year. While initially contacted by Osher to teach a class on the American poet Emily Dickinson, Johnson said she convinced Osher there would be an interest in a Thoreau class.
"I was living and breathing Thoreau and spending so much time reading and researching him, so I knew I wanted to bring that to share that energy locally and mark the bicentennial here," Johnson said. "When I did these courses, all my students were interested to learn about his work, his life, his contributions to environmental history…Even today, he's fascinating to so many people."
Although Johnson originally intended for her fall seminar on Thoreau to be a one-off course, she said the enthusiasm her C of I students showed for the material was significant enough that the course may return in future years. Two students who took her course, Christian Foster and Henry Vaughn, went on to serve as voluntary research assistants to continue working on Thoreau's writings.
"The things I heard the most from my students are things like 'Thoreau made me examine my life' and 'He made me wonder how to live deliberately and what I valued most,'" she said. "As a teacher, hearing that they were so moved by the material was a great feeling, totally unexpected and fabulous."
Johnson will return to Concord this summer for the next Thoreau Society Annual Gathering and she said she has plans to continue her Thoreau scholarship as she also shifts her focus toward an ongoing biography project on American writer and naturalist Susan Fenimore Cooper. Even as the hype behind Thoreau's bicentennial winds down, she said she expects his appeal to continue capturing the scholarly imagination, as it always has.
"He has so much that can be applied to what we face today, which I think is part of his appeal," Johnson said. "He thought about what it means to be human on a planet that is enduring environmental change because of human pressures that can lead to a civilization collapse. He was concerned about those things, and we are too."
The College of Idaho has a 127-year-old legacy of excellence. The C of I is known for its outstanding academic programs, winning athletics tradition and history of producing successful graduates, including seven Rhodes Scholars, three governors and countless business leaders and innovators. Its distinctive PEAK Curriculum challenges students to attain competency in the four knowledge peaks of humanities, natural sciences, social sciences and a professional field—empowering them to earn a major and three minors in four years. The College's close-knit, residential campus is located in Caldwell, where its proximity both to Boise and to the world-class outdoor activities of southwest Idaho's mountains and rivers offers unique opportunities for learning beyond the classroom.  For more information, visit www.collegeofidaho.edu.