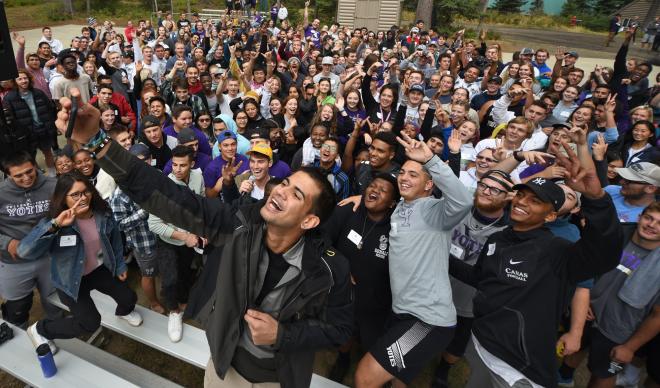 It took more than a little bit of rain to stop C of I freshman Wyatt Smith from getting into the water during this year's McCall Wilderness Experience.
"The water was heart stopping," Smith said. "It was so freezing out there with all the rain. But I wasn't the only one to go in, and I think that's what made it the most fun."
Smith joined the rest of the Class of 2022 on the annual freshman trip to McCall, Idaho — the McCall Wilderness Experience — a trip designed to help the freshman class get to know one another through a number of group activities at Payette Lake, including hiking, kayaking and sports. This year's class made the trip from Caldwell despite threats of rain in the forecast, but the wet weather certainly didn't dampen the class' ability to have fun and make new friends.
"Honestly, I barely slept because I stayed up half the night talking with all the new friends I met," said Dreakeanna Adair, a freshman leaning toward studying psychology. "It was so great meeting all these new people and finding out everything we had in common."
Although the rain did keep the freshmen indoors for portions of the overnight stay, freshman political science and art double major Christopher Truksa said the rain turned out to make some parts of the experience even better.
"It could have been disappointing, but we all made the most of it and powered through it," Truksa said. "We just looked at it as a way to do more things together."
For many of the students, it was the people they met that turned out to be the best part, no matter what the activity or the weather.
"I think doing this, I've met at least half of the entire class," said pre-med freshman Nate Griswold. "As brief as it was, I think I can at least recognize a lot of the people I'll be with from this point forward."
With classes on the horizon this Wednesday, freshman biology student Collin Glass said it's time to refocus toward the official start of school.
"This was a lot of fun and we met a lot of people, but it will be good to get into a routine and really get started," he said.
The College of Idaho has a 127-year-old legacy of excellence. The C of I is known for its outstanding academic programs, winning athletics tradition and history of producing successful graduates, including seven Rhodes Scholars, three governors, and countless business leaders and innovators. Its distinctive PEAK Curriculum challenges students to attain competency in the four knowledge peaks of humanities, natural sciences, social sciences and a professional field—empowering them to earn a major and three minors in four years. The College's close-knit, residential campus is located in Caldwell, where its proximity both to Boise and to the world-class outdoor activities of southwest Idaho's mountains and rivers offers unique opportunities for learning beyond the classroom.  For more information, visit www.collegeofidaho.edu.