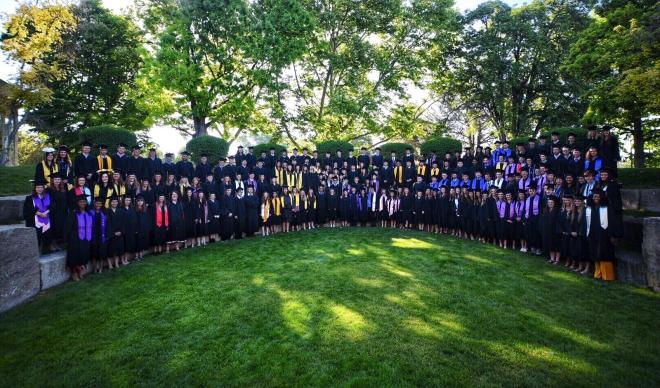 For graduating College of Idaho senior Lisanda Masilela, the morning of May 19, 2018 felt like a normal morning. The psychology major and international student from Swaziland was set to receive her diploma in a matter of hours, and yet it wasn't until she found herself in her cap and gown that she began to take in what she was about to accomplish.
"It didn't feel like anything this morning," Masilela said. "But when I started walking in with everyone else, I just thought 'Here we go.' That's when I knew. I saw [President] Jim [Everett] standing up there with my diploma and I got so focused."
Masilela was one of over 200 C of I students in the Class of 2018 to earn their degrees on Saturday, the 127th class to be honored since the College's founding in 1891. As "Pomp and Circumstance" rang across the Morrison Quadrangle, the students marched alongside their peers, waving to friends and family as they passed through the center of the Quad and lined up in front of the steps of Boone Hall.
C of I President Doug Brigham noted the considerable amount of changes this particular class faced over their four years as students, from the completions of the Marty Holly Athletic Complex and Cruzen-Murray Library to the remodels of Finney and Voorhees Halls. He compared the changes on campus to the changes that may have occurred in themselves, noting that both the campus and the students are defining the benefits of having a liberal arts education.
"In an era of rapidly changing technology, where the job you have in five years may not even exist today, it is more important than ever to have as broad an education as possible," Brigham said. "On behalf of Jim Everett and myself, congratulations on the completion of another step in what hopefully is a lifetime of learning and curiosity."
Senior speaker Natasha Dacic, the first in her family to graduate from college, used her speech to encourage her classmates to accept their pasts while embracing their futures, pushing for her peers to use the talents they honed as students for the greater good of their communities.
"We are the graduating class that has the determination to make a real impact wherever we set foot," Dacic said. "Amongst you, Class of 2018, are go-getters, artists, environmentalists, politicians, teachers, scientists, originators, and so much more. We've shown each other and we've shown ourselves that we have the capability to help shape and influence the future."
Keynote speaker Dr. Forest Rohwer '91, one of the world's leading experts in coral reef research, quipped at the beginning of his speech he had started writing his speech with the assistance of Google, where he typed in "how to write a good Commencement speech." Unsatisfied with many of the clichéd platitudes he had heard speakers from other institutions use, Rohwer instead offered the Class of 2018 the advice to ignore the advice of such speakers and pave their own ways.
"Being excited about your life really is the most important thing," Rohwer said. "Don't worry about making your bed. It's a dumb thing to spend your time on. Life is filled with a billion things better than making your bed. Find something to help you mess it up again."
As the students were conferred their degrees and officially declared graduates, many began to reflect on how they had grown over the previous four years. History major Melanie Miller thought back on the greatest lesson she had learned as a Yote — how to love herself.
"When I was a freshman, I came in knowing I had a lot of potential, but I didn't really believe in myself completely," Miller said. "I saw the person I was, and I learned how to like that person, and that person should be cherished."
For Amanda Di Dio, senior philosophy and environmental studies double major and outgoing Associated Students of the College of Idaho president, she confirmed that the lessons she learned as a student would go on to create new lessons for her in the future.
"I've learned that you will always have more to learn," Di Dio said. "And the more that I learn, the more that I want to learn even more."
Congratulations to all of our students in the Class of 2018! We are proud of you and we can't wait to see what you'll accomplish!
The College of Idaho has a 127-year-old legacy of excellence. The C of I is known for its outstanding academic programs, winning athletics tradition and history of producing successful graduates, including seven Rhodes Scholars, three governors and countless business leaders and innovators. Its distinctive PEAK Curriculum challenges students to attain competency in the four knowledge peaks of humanities, natural sciences, social sciences and a professional field—empowering them to earn a major and three minors in four years. The College's close-knit, residential campus is located in Caldwell, where its proximity both to Boise and to the world-class outdoor activities of southwest Idaho's mountains and rivers offers unique opportunities for learning beyond the classroom.  For more information, visit www.collegeofidaho.edu.