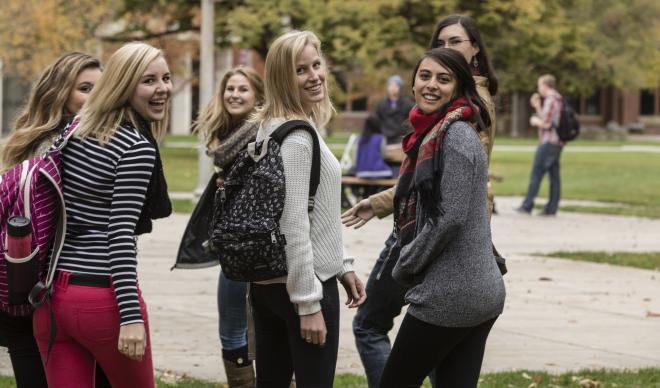 At The College of Idaho, students strive for excellence and growth each and every day. For over 125 years, the College itself has served as an institution to help students reach their potential, no matter their goals — and it is always looking for new students to join the #YoteFam.
Prospective students have the opportunity to see the College for themselves this October during its annual Fall Discovery Day, which will be held on Saturday, October 28. Here, students will have the chance to explore what it means to be a Yote through campus tours, meetings with faculty and interactions with current C of I students in a fun and encouraging setting.
"Fall Discovery Day is the premiere fall campus event," C of I Assistant Director of Admissions Greg Franz said. "Students and parents will feel the energy and passion for academic inquiry throughout the day, and be able to access staff members to discuss financial aid, the admission process, and student life."
Fall Discovery Day will allow students looking for the next step in their education to experience firsthand what the College has to offer. The students will interact with representatives from the Outdoor Program and Residence Life, receive information about study abroad opportunities, and talk one-on-one with student ambassadors and admissions counselors who can answer any and all questions about the College. The College will also provide lunch courtesy of the College's food service, Bon Appetit.
The College of Idaho has received numerous accolades for its academic quality and its strong, supportive campus community. The College ranked No. 2 on the Best College Review's 2017 list of the "Top 50 Best Small Colleges in the U.S." and has ranked highly on the U.S. News and World Report's list of "Best National Liberal Arts Colleges" at No. 168 in the nation. The College has also received accolades from other major publications, including Forbes, The Princeton Review, and the Fiske Guide to Colleges.
Prospective students can register for Fall Discovery Day via www.collegeofidaho.edu/visit, where they can also schedule individual visits, which will offer the opportunity for more one-on-one interaction with staff, faculty and current students in a personalized setting.
"For any students and parents of students considering attending The College of Idaho, we highly recommend having a visit," Franz said.
The College of Idaho has a 125-year-old legacy of excellence. The C of I is known for its outstanding academic programs, winning athletics tradition and history of producing successful graduates, including seven Rhodes Scholars, three governors, four NFL players and countless business leaders and innovators. Its distinctive PEAK Curriculum challenges students to attain competency in the four knowledge peaks of humanities, natural sciences, social sciences and a professional field—empowering them to earn a major and three minors in four years. The College's close-knit, residential campus is located in Caldwell, where its proximity both to Boise and to the world-class outdoor activities of southwest Idaho's mountains and rivers offers unique opportunities for learning beyond the classroom.  For more information, visit www.collegeofidaho.edu.