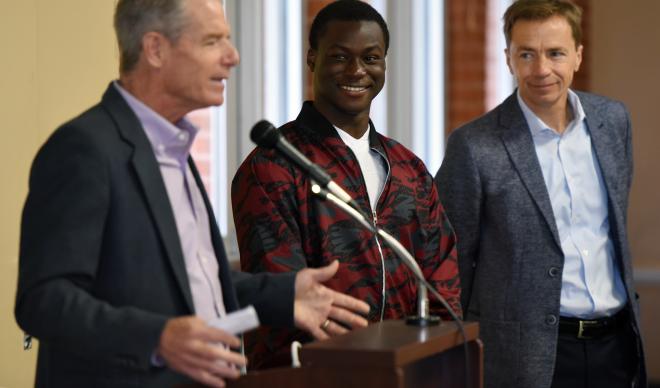 "How many of you think you're role models?"
College of Idaho Co-President Jim Everett asked this question as he stood before a group of 75 high school students, assembled on the C of I campus as part of the 6th Annual Caldwell Youth Forum. Some of the students looked uncertainly around the room; a handful slowly raised their hands.
"Come on, who in this room is a role model?" Everett challenged the students. "I'll keep this going until everyone's hands are up."
Before long, the students had all confidently raised their hands. Everett smiled encouragingly at each of them.
"You are all role models, whether you mean to be or not," Everett said. "And what each of you get to choose is the kind of role model you will become each and every day. It's the kind of role model that will make a difference in your schools."
The Caldwell Youth Forum, featuring an assembly of students from five local Canyon County high schools specifically invited based on academic success, is an annual gathering encouraging students not currently engaged in student government or after-school activities to "shake off the bystander role" and become motivated to improve their respective schools and help establish a school culture of positive change and wellness. Throughout the forum, the students undergo a number of teambuilding activities and share in-depth discussions on leadership.
"We want these students to go back to their schools to create an environment for learning versus just day-to-day survival," said Ron Bonneau, C of I ski program head coach and Caldwell Youth Forum chair. "If we can inspire these kids to make a difference in the lives of their friends and classmates, it's worth it."
The forum is part of the Caldwell Youth Master Plan — the only such plan in the state of Idaho. Established in 2012 and taking inspiration partially from the C of I's McCall Wilderness Experience, the plan includes strategic initiatives to make the city a positive place for children to be raised with a focus on out-of-school time, education and workforce readiness, safety, health and wellness, communication and relationships, and community involvement.
Caldwell Mayor Garret Nancolas was on hand to meet with the visiting students, sharing a personal story with the group about his time as a young student with a notable lisp. He told them about the embarrassment he felt when asked to read aloud during class and hearing his classmates snicker in the background – but shared the relief he felt when he received encouragement from friends and teachers.
In turn, he encouraged the students to use their voices to speak up, not only to share with the adults at their schools how their communities could be improved, but also to help their peers through hard times.
"There is so much power within all of you," Nancolas said. "You never know how much impact, good or bad, what you do and what you say will have in someone else's life."
Everett supported Nancolas' message with the help of a C of I freshman, Omotayo Akingba, who Everett spoke of as a positive example of student impact. Akingba, an international student from Nigeria, stood out among the other freshman during the McCall Wilderness Experience for his genuine interest in others, opening himself up to strangers despite his unfamiliarity with being a student in America.
"Omo has it right," Everett said to the students. "Get involved and jump in. The worst that can happen is someone doesn't laugh at your jokes."
Everett also encouraged the students to set their sights on completing a college education as part of being a positive role model, impressing upon the students the importance of completing their educations as they advance into the wider world.
"Show up, speak up, stand up," Everett told the students. "Don't just walk by it – be that role model."
The College of Idaho has a 127-year-old legacy of excellence. The C of I is known for its outstanding academic programs, winning athletics tradition and history of producing successful graduates, including seven Rhodes Scholars, three governors, and countless business leaders and innovators. Its distinctive PEAK Curriculum challenges students to attain competency in the four knowledge peaks of humanities, natural sciences, social sciences and a professional field—empowering them to earn a major and three minors in four years. The College's close-knit, residential campus is located in Caldwell, where its proximity both to Boise and to the world-class outdoor activities of southwest Idaho's mountains and rivers offers unique opportunities for learning beyond the classroom.  For more information, visit www.collegeofidaho.edu.