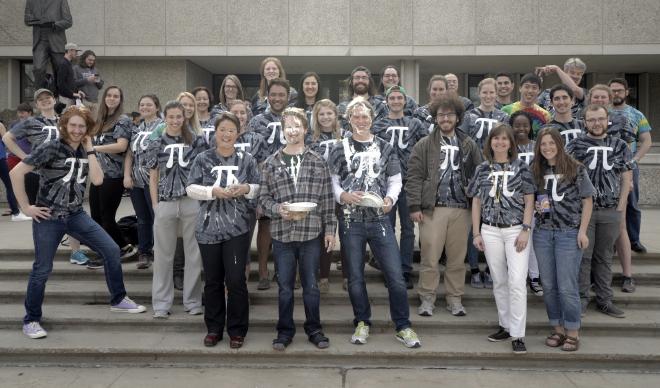 Most people can remember the first few digits of the mathematical constant Pi: 3.14. A select few can remember the digits of the irrational number to hundreds of places. And on March 14 this year, as part of The College of Idaho's 15th annual celebration of what is commonly called Pi Day, the C of I Math Club is aiming to enter the Guinness Book of World Records by creating the longest human representation of Pi digits — 600 people, all in one, unbroken Pi chain.
"We couldn't say no to the opportunity to put the College in the record books," said Natasha Dacic, a senior C of I mathematics-physics and environmental studies double major and current Math Club president. "We thought about how we could celebrate our 15th anniversary and get more of the community engaged in Pi Day. This is something we figured could attract some attention."
Taking inspiration from Willamette University's world record game of Red Light, Green Light in 2015 (which featured more than 1,200 participants), the C of I Math Club is calling upon the campus community, as well as the rest of the Treasure Valley, to gather at Symms Athletic Field at 12:15 p.m. on March 14 (UPDATE: due to the possibility of inclement weather, the event has been moved indoors into the JA Albertson Activities Center). There, they will be given a free t-shirt, each emblazoned with a digit on the front corresponding to one of the digits of Pi. They will then be strategically placed in one long, continuous line, which will stretch and curve all around the field. Their order will represent Pi to 599 decimal places.
Dacic said the club, which has only eight members, has been working on organizing the world record attempt since submitting an application to the Guinness Book of World Records in November. After receiving approval to attempt to break the current record on March 14 (which stands at 520 people), the club sprang into action to gather volunteers, order t-shirts, reserve spaces, and reach out to anyone who might be interested in participating.
"The Guinness officials have a lot of rules we need to follow in order for our attempt to count," Dacic said. "A lot of the preparation has just been making sure we have everything we need."
The Math Club has hosted Pi Day festivities every year at the College since 2003. This year, as in past years, students will be able to celebrate one of the world's favorite irrational numbers throughout the day in Boone Hall from 8 a.m. through 3:14 p.m. At Boone Hall, visitors can enjoy pastries, coffee and cocoa as they add links to the College's ongoing paper Pi Chain, which is long enough to stretch all around the building.
People will also be able to donate money for the popular "Pie a Professor" event, in which the professors with the most and least money donated and the professor whose name is on the special "Hotseat" jar will take a pie to the face. All proceeds from the Pie a Professor event will help fund the C of I Math and Science Summer Institute, a summer camp for middle school students which encourages their interest in STEM-related topics and careers.
However, this year is the first year the club has tried to tackle a world record — a challenge for the small club, but one Dacic is confident they can accomplish.
"It's been a whirlwind trying to organize everything, but I keep telling myself that it's not about if we break the record, but when," she said. "We've had so much support on this from all over campus and all around the community. We love the atmosphere that this is creating, and we can't wait to celebrate when we get that 521st person into our line."
Participation in the world record attempt is free, and includes the t-shirt which will be used as part of the attempt. Participants are encouraged to bring their lunch with them to the attempt, which Dacic estimates could last around one hour. In the case of inclement weather, the attempt will instead take place at the J.A. Albertson Activities Center on the other side of campus.
The College of Idaho has a 127-year-old legacy of excellence. The C of I is known for its outstanding academic programs, winning athletics tradition and history of producing successful graduates, including seven Rhodes Scholars, three governors, four NFL players and countless business leaders and innovators. Its distinctive PEAK Curriculum challenges students to attain competency in the four knowledge peaks of humanities, natural sciences, social sciences and a professional field—empowering them to earn a major and three minors in four years. The College's close-knit, residential campus is located in Caldwell, where its proximity both to Boise and to the world-class outdoor activities of southwest Idaho's mountains and rivers offers unique opportunities for learning beyond the classroom.  For more information, visit www.collegeofidaho.edu.