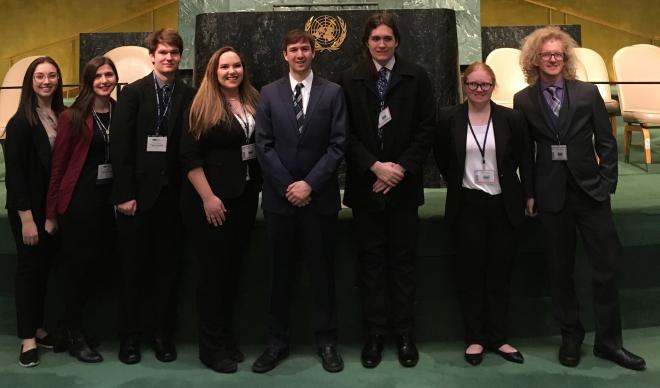 During their spring break, The College of Idaho's Model United Nations team once again found itself as one of the smallest delegations attending the 2018 National Model United Nations Conference in New York City from March 18-22. Just like the country the C of I team was representing at the conference, the Southeast Asian island state of Timor-Leste, the College found itself dwarfed by comparatively larger colleges and universities, from fellow Americans to international attendees from places like Germany, Italy and France.
Despite their small size, the C of I team proved itself to be a positive force at the conference, earning the Distinguished Delegation award — the second-highest honor possible at the world's largest Model UN conference, which hosts over 2,000 delegates from 165 colleges and universities worldwide to simulate the goals and procedures of the real life United Nations.
"As one of the smallest delegations to compete at the 2018 conference, and with only one returning delegate, this year's recognition is extraordinary," said C of I Professor Rob Dayley, who serves as the faculty advisor of the team. "The C of I team won the respect of conference judges for their high-quality position papers, realistic mock resolutions, speeches from the floor, and skilled leadership in regional blocs."
Led by sophomore Head Delegate Marine Vieille, the only returning member from the previous year's delegation, the eight C of I delegates sat on seven different committees, representing the interests of Timor-Leste in a number of topics surrounding international law, including counter-terrorism, migration, education, weapons control and urbanization. To prepare, the team took a six-week preparation course with Dayley to both research Timor-Leste and learn more about the procedures and expectations that come with participation in the United Nations.
"I'm very proud of the team because most of us had never done Model UN at all until this year," said Vieille, an environmental studies and international political economy double major who first participated in Model UN as a junior in high school. "When we got there, a lot of our team were brave enough to just go for it. The fact that we're such a small school and doing so well just shows how well prepared we were coming into it."
During the five day conference, every member of the team lived up to the standards of the Distinguished Delegation Award. Vieille and fellow sophomore Gavin McCaw each received nominations for peer-based "outstanding delegate" awards in their respective committees that covered migration issues and arms control. Senior Isaiah Hollomon initiated a successful resolution detailing tighter controls of dual-use chemicals as part of an extensive review of the Chemical Weapons Convention, while junior Zach Snider and freshman Ozzy Worrell passed a General Assembly resolution by rare unanimous consent with their sponsored resolution on the prevention of sexual exploitation in conflict zones.
In addition, junior Kaytlyn Marcotte was selected by the conference staff as a rapporteur in the United Nations Environmental Assembly, a conference-wide body, while senior Rachel Grove and junior Alexander Sproule-Fendel helped draft resolutions promoting education and sustainable development in large General Assembly committees.
"As a delegate, I felt a level of understanding and respect for international policy and politics in general," said Sproule-Fendel, a theatre and political economy double major at the C of I. "It was a powerful experience in that you are representing and speaking to an entire country's needs, and you are speaking to those in committees representing much larger countries to bring about better policy for yourself as well as the world."
In their downtime from conference business, which included several hours of meetings and between 20-60 speeches on the main conference floor daily, the team had the chance to explore New York City and interact with other delegates. Sproule-Fendel said he introduced delegates from Germany to Chipotle Mexican Grill for their first time, as well as attended several Broadway shows when he wasn't busy with conference business.
"Exploring New York City for the first time was a dream come true," Sproule-Fendel said. "I was born and raised in San Francisco, so my heart is in cities, and going to New York was like going home again, but in a totally different way."
Vieille said she visited the Empire State Building and Central Park, as well as the actual United Nations Headquarters, where she got to attend the UN's opening ceremony.
"It was a privilege to be in that special place," Vieille said. "You feel so humbled in there because you feel so small in comparison to all the history that has passed in that room."
Vieille said a lot of the credit for the team's success is thanks to Dayley's advising skills and dedication to the team.
"We're lucky to have him as our advisor," Vieille said. "He knows the difficulties of being in a small group, but also how to tell us ways we can use that to our advantage. We would never have done as well as we did without him because he's put so much of himself into the program."

The College of Idaho has a 127-year-old legacy of excellence. The C of I is known for its outstanding academic programs, winning athletics tradition and history of producing successful graduates, including seven Rhodes Scholars, three governors, four NFL players and countless business leaders and innovators. Its distinctive PEAK Curriculum challenges students to attain competency in the four knowledge peaks of humanities, natural sciences, social sciences and a professional field—empowering them to earn a major and three minors in four years. The College's close-knit, residential campus is located in Caldwell, where its proximity both to Boise and to the world-class outdoor activities of southwest Idaho's mountains and rivers offers unique opportunities for learning beyond the classroom.  For more information, visit www.collegeofidaho.edu.