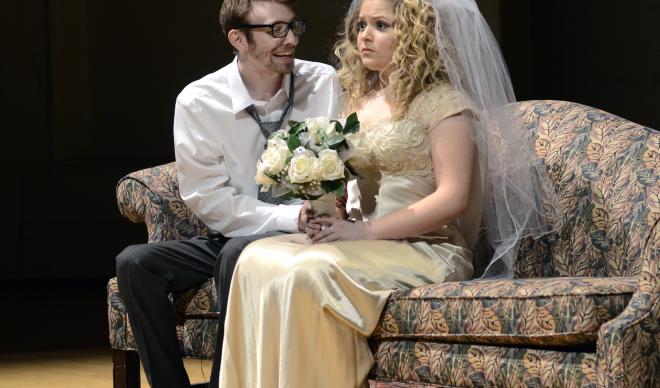 The College of Idaho will once again offer the campus community a night at the opera at 7:30 p.m. on Feb. 16-17 in the Langroise Recital Hall with "An American Opera Showcase," an event produced by the C of I music department which will feature scenes from seven iconic American operas performed by a cast of 11 talented student musicians.
"We wanted to do something with a lot of variety," said C of I music professor Dr. Mari Jo Tynon, the production's artistic director. "Last year we did a German opera, 'Hansel and Gretel.' The year before was 'Dido and Aeneas,' which is Baroque. When we're talking American opera, we're talking mostly modern operas from the 20th century onward. It's a different twist with a lot of humor involved."
While many of the C of I's annual opera productions have featured one full show, this year will instead feature scenes from a variety of operas and will utilize several costume and set changes to reflect each new opera. The operas the production features — Gian Carlo Menotti's "Old Maid & the Thief" and "The Telephone," Leonard Bernstein's "Candide," Cole Porter's "Kiss Me Kate," Stephen Sondheim's "Into the Woods" and "Company" and Edwin Penhorwood's "Too Many Sopranos" — are unified not only by the nationality of their respective authors, but also in their themes or romance and marriage.
"It's a little more challenging to stage than a full show because you have so many scenes that are different from each other," Tynon said. "However, the show will have a continuous flow, and it provides an interesting contrast from some of the larger scale things we've done."
Sophomore music and psychology double major Micaela Hulsey, who is performing scenes from three of the operas in the showcase, said the cast had been working on their music since before the end of the fall semester, with many of the students learning and rehearsing their music during the winter break before starting regular rehearsals during the 2018 Winter Term.
"I love opera with my whole heart and am absolutely in love with the art of performing it and singing it," Hulsey said. "Call me a nerd, but I was listening to my pieces almost every single day just because I was so excited about getting to perform in another opera."
Senior history major Megan French, who is participating in her third opera production at the C of I, said part of what makes this production unique compared to her previous productions is the show's accessibility to those who may be more familiar with foreign language operas.
"I think a lot of people just see opera as lots of loud dramatic singing in another language, but because we are doing American opera, anyone can come enjoy the show and understand what is happening," French said. "And we have such a wide variety of scenes, some scenes that audience members may recognize, so it's bound to be entertaining for all."
Rounding out the student cast alongside Hulsey and French are Bryan Weatherston, Jack Morrow, Shantel Ferrin, Eli Rolapp, Lorena Rebon Rincon, Sara Jane Fields, Hannah Sorenson, Ali Hobson and Brookelynn Ashby. The students will be accompanied by alumni pianist, Margie Koenig '94. The show's music director is Dr. Andrew Gades.
Tickets for the show are available at the door, costing $8 for adults and $5 for senior citizens and students. C of I students, staff and faculty will receive free admission.
The College of Idaho has a 125-year-old legacy of excellence. The C of I is known for its outstanding academic programs, winning athletics tradition and history of producing successful graduates, including seven Rhodes Scholars, three governors, four NFL players and countless business leaders and innovators. Its distinctive PEAK Curriculum challenges students to attain competency in the four knowledge peaks of humanities, natural sciences, social sciences and a professional field—empowering them to earn a major and three minors in four years. The College's close-knit, residential campus is located in Caldwell, where its proximity both to Boise and to the world-class outdoor activities of southwest Idaho's mountains and rivers offers unique opportunities for learning beyond the classroom.  For more information, visit www.collegeofidaho.edu.