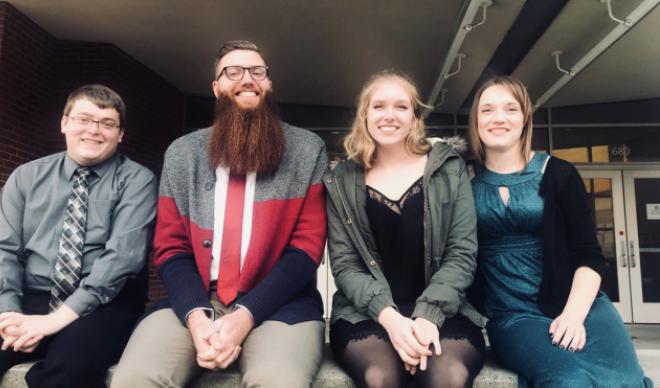 Among the 133 students from Idaho and Washington performing at the National Association of Teachers of Singing's regional competition on Nov. 10-11 were four music students from The College of Idaho, each of whom represented the music program with both high notes and high scores.
Sophomore music/psychology double-major Micaela Hulsey won second place in her division at the annual NATS regional competition held at Washington State University in Pullman, her second year in a row performing at the competition's finalist recital. She was joined on the trip by junior music majors Hannah Sorenson and Bryan Weatherston, as well as senior music minor Eli Rolapp and alumna pianist Margie Koenig '94, who served as accompanist for each performer.
"The competition is always nerve-wracking, and it's very intimidating being with all those other great singers and everything," Hulsey said. "But it's always really fun just going to the competition with my friends and being able to hang out with them all weekend."
C of I music students regularly participate in NATS competitions, in which students from around the country perform for and are judged by voice teachers from other universities to receive written feedback. The students are separated into divisions based on their age and gender, with the three highest scorers from each division sent to the finalist's recital at the end of each day, which is judged by around 20 voice teachers.
"The students benefit greatly from this experience," said Dr. Mari Jo Tynon, a music professor at the C of I who accompanied the students on their trip. "It motivates them with a performance goal. They work very hard preparing their repertoire and they grow so much in terms of vocal technique and performance skills from this experience."
Hulsey said she prepared three classical songs over the course of three weeks with the help of Tynon, preparing for performances in English, French and German to satisfy NATS' repertoire requirements. The soprano likened the preparation to that of an athletic event, comparing Tynon to a successful sporting coach.
"It's just as intense as any sport," Hulsey said. "(Tynon) will give you the tools you need, and then you need to work on how to apply them. It's a lot of time of being in the practice room and figuring it out, taking the tools she's given me and hoping that it turns out the way I hoped."
That practice paid off for Hulsey in particular, the only C of I student invited to participate in the finals, where she ultimately placed second. After winning in her division at last year's NATS regionals, Hulsey was thrilled to once again achieve her goal of making the finals, especially against an expanded number of competitors compared to her previous year.
"The competition was so much more intense this year because of how many more people there were compared to last year," Hulsey said. "It was amped up to another level. I'm glad I was able to make it all the way."
Although Sorenson, Weatherston and Rolapp did not reach the finals in their divisions, Tynon said each received high scores from the judges and received positive feedback all around.
"I am very proud of what each of the students accomplished," Tynon said. "The students are heard by a lot of other people, and they hear many students from other schools. Hearing so much good singing at this event is also inspirational and motivates us all to do better."
The College of Idaho has a 125-year-old legacy of excellence. The C of I is known for its outstanding academic programs, winning athletics tradition and history of producing successful graduates, including seven Rhodes Scholars, three governors, four NFL players and countless business leaders and innovators. Its distinctive PEAK Curriculum challenges students to attain competency in the four knowledge peaks of humanities, natural sciences, social sciences and a professional field—empowering them to earn a major and three minors in four years. The College's close-knit, residential campus is located in Caldwell, where its proximity both to Boise and to the world-class outdoor activities of southwest Idaho's mountains and rivers offers unique opportunities for learning beyond the classroom. For more information, visit www.collegeofidaho.edu.