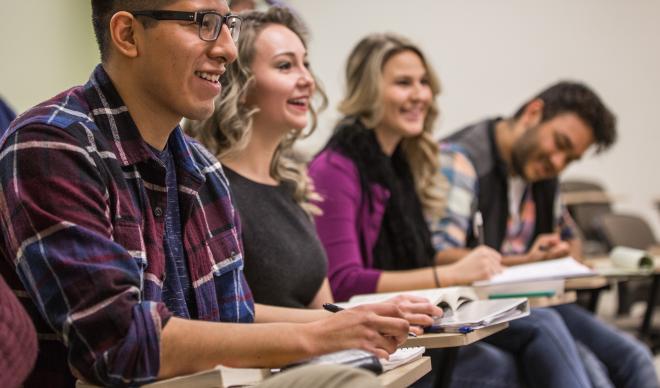 Already ranked by Forbes and The Wall Street Journal as Idaho's number one college and as number two on last year's list of the "Top 50 Best Small Colleges in the U.S." by Best College Review, The College of Idaho can add another top distinction to its growing list of highlights: Idaho's top school for job placement.
In a list published by career site Zippia using data from the Integrated Postsecondary Education Data System (IPEDS), the C of I stood out as the number one school in the state of Idaho when looking at employment levels of its graduates. The data showed the C of I had employment levels a decade past graduation of over 90 percent, placing it ahead of several comparatively larger schools in the country.
At this year's Commencement ceremony, C of I Co-President Doug Brigham credited the College's distinctive PEAK Curriculum as a major factor in the success of the College's graduates. He says the distinctive C of I education gives a competitive edge upon entering the job market because graduates begin their employment careers with a wide array of knowledge in multiple fields.
"In an era of rapidly changing technology — where the job you have in five years may not even exist today — it is more important than ever to have as broad an education as possible," Brigham said.
The College's PEAK Center provides support for graduates even before their departure from the College, including hosting job listings for both current students and graduates by C of I alumni, providing assistance in internship applications, and hosting two career fairs each year on C of I's campus. Last spring's fair saw a 52 percent increase in student attendance with 26 local businesses and organizations interviewing students.
"I think The College of Idaho is intriguing to most employers because of the uniqueness of our curriculum," said PEAK Center Director Jennifer Riddle at the event. "They're pleasantly surprised by the diversity of knowledge our students bring to the table. Between the students' majors and their minors, their academic experiences can fit into many of these positions with the right insight."
To learn more about the PEAK Center, please visit https://www.collegeofidaho.edu/academics/career.
The College of Idaho has a 127-year-old legacy of excellence. The C of I is known for its outstanding academic programs, winning athletics tradition and history of producing successful graduates, including seven Rhodes Scholars, three governors, four NFL players and countless business leaders and innovators. Its distinctive PEAK Curriculum challenges students to attain competency in the four knowledge peaks of humanities, natural sciences, social sciences and a professional field—empowering them to earn a major and three minors in four years. The College's close-knit, residential campus is located in Caldwell, where its proximity both to Boise and to the world-class outdoor activities of southwest Idaho's mountains and rivers offers unique opportunities for learning beyond the classroom.  For more information, visit www.collegeofidaho.edu.