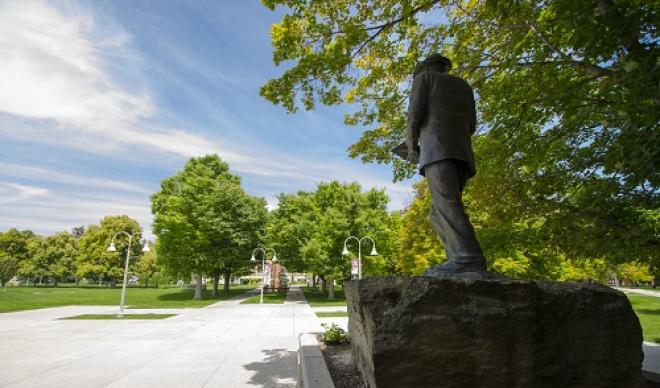 The College of Idaho Board of Trustees has formed a search committee to help select the College's 14th president, and is currently reaching out to the community to help gather qualified candidates.
The committee is made up of 16 representatives from the College, including members of the Board of Trustees, faculty, staff, administration, athletics, and students. Their goal is to select a talented, passionate and energetic candidate with established strategic leadership experience and potential for the position to best advance the College's mission in promoting an innovative and individualized curriculum in the liberal arts and professional studies.
While the committee is reaching out to potential candidates on their own, they are also seeking nominations from the community and encouraging any interested and qualified parties to submit letters of interest and their curriculum vitae electronically.
The committee is accepting applications through Oct. 20. Board of Trustees Chair Laura Turner said the committee hopes to announce its final selection in early 2018.
"In the meantime, I assure you that the Board of Trustees, along with President Hoover and his dedicated leadership team, remain committed to our mission of preparing students to lead productive and fulfilling lives, as well as the execution of the initiatives and strategies designed to secure the future of The College of Idaho," Turner stated.
Interested parties may find the presidential leadership profile at https://www.collegeofidaho.edu/jobs and may submit application materials to the committee at [email protected].
The College of Idaho has a 125-year-old legacy of excellence. The C of I is known for its outstanding academic programs, winning athletics tradition and history of producing successful graduates, including seven Rhodes Scholars, three governors, four NFL players and countless business leaders and innovators. Its distinctive PEAK Curriculum challenges students to attain competency in the four knowledge peaks of humanities, natural sciences, social sciences and a professional field—empowering them to earn a major and three minors in four years. The College's close-knit, residential campus is located in Caldwell, where its proximity both to Boise and to the world-class outdoor activities of southwest Idaho's mountains and rivers offers unique opportunities for learning beyond the classroom.  For more information, visit www.collegeofidaho.edu.