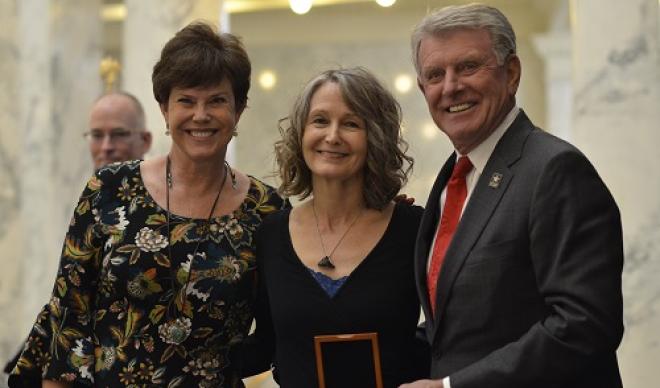 With her mother and aunt in the audience, College of Idaho English Professor and 1983 alumna Diane Raptosh accepted the Governor's Award for Excellence in the Arts on Nov. 8 in Boise's Capitol Rotunda, receiving an engraved silver medallion from Idaho Governor and fellow C of I alumnus C. L. "Butch" Otter.
Raptosh was one of 11 honorees at the biannual event, which serves as a celebration of Idaho's outstanding contributors to the art world. She was one of two to earn the "Excellence in the Arts" award in recognition of her distinguished literary career, including five books of poetry, four years as Idaho Writer-in-Residence, Boise's inaugural Poet Laureate, and a longlist nominee for the National Book Award for her 2013 collection "American Amnesiac."
"It is a great honor to be counted among so many talented artists today," Raptosh said as she accepted the award. "Thank you for celebrating us all."
In her short speech, Raptosh thanked her mother and aunt for their roles in encouraging her to "beat my drum to my own rhythm," as well as dedicating the award to her brother Eric Raptosh, who continues to recover following a plane crash last summer. She also took the time to thank her family at The College of Idaho, including all her students, past and present.
"I'm pleased to see so many of my colleagues and students today, and I'm grateful for their support," Raptosh said.
Governor Otter presented the awards alongside his wife Lori, who glowingly introduced Raptosh as an outstanding poet whose "esteem is clear in the comments of her peers."
 "Diane has dedicated her life to showing just how powerful words can be," Lori Otter said.
Two such peers were quoted within the event's program. Fellow Boise-based writer Anthony Doerr complimented Raptosh as "an innovative and fearless poet, a dedicated teacher, and an Idaho treasure." John Ottenhoff, former executive director for foundation and corporate relations at the C of I, stated Raptosh wasn't just a teacher in the classroom, but through her powerful and imaginative works of poetry.
"Diane's creative work reminds us that words matter, that poetry is so much more than diversion or entertainment," Ottenhoff stated. "Her poetry challenges us to think, to feel, to contemplate the society in which we live."
Governor Otter said he was proud to welcome all winners of the Governor's Awards in the Arts, including Raptosh.
"These awards recognize individuals who demonstrate an exceeding degree of artistry in our state," he said. "It is our honor today to recognize them."
The College of Idaho has a 127-year-old legacy of excellence. The C of I is known for its outstanding academic programs, winning athletics tradition and history of producing successful graduates, including seven Rhodes Scholars, three governors, and countless business leaders and innovators. Its distinctive PEAK Curriculum challenges students to attain competency in the four knowledge peaks of humanities, natural sciences, social sciences and a professional field—empowering them to earn a major and three minors in four years. The College's close-knit, residential campus is located in Caldwell, where its proximity both to Boise and to the world-class outdoor activities of southwest Idaho's mountains and rivers offers unique opportunities for learning beyond the classroom.  For more information, visit www.collegeofidaho.edu.