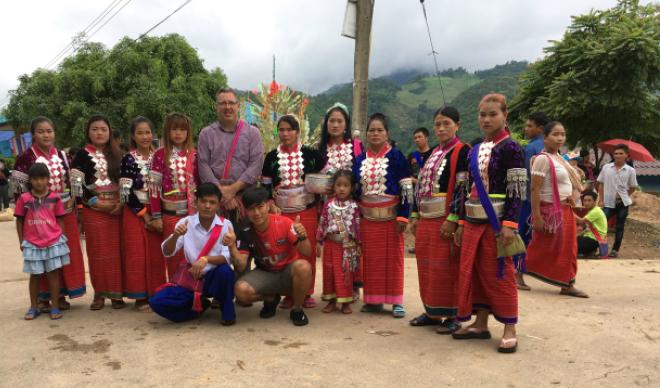 This summer, a group of student researchers and faculty members from The College of Idaho will embark on a three-week trip to the Thailand-Myanmar border to document the experiences of Dara'ang refugees in the area — a trip financed by a competitive $35,000 ASIANetwork-Freeman Student-Faculty Fellows Grant.
C of I political economy professor Dr. Rob Dayley and art professor Dr. Alice Vinson will lead a group of five students to the Thai-Myanmar border in an effort to call greater attention to the lives of Dara'ang refugees from Myanmar, an ethnic minority who have fled across the border in recent decades to escape their homeland's dangerous drug trade, oppressive government and ethnic fighting. Although the Dara'ang have made lives for themselves as part of Thailand's tourism industry as skilled elephant trainers, they continue to face social and political persecution by lowlanders despite support from Thailand's non-governmental organizations.
"The aim of our grant project is to bring the migration story of the Dara'ang out of obscurity," Dayley said. "We expect to highlight the hardships, difficulties and struggles of the refugee experience and compare migrant life to the experiences of those who stayed behind in Myanmar."
Dayley approached Vinson about the possibility of applying for the grant last spring, and the two combined their respective expertise to submit a grant application with the help of their selected student partners in December. In their proposal, they outlined three outcomes from their faculty-mentored and student-produced project, including a research paper, a conference poster, and a 30-minute educational documentary, each to be centered on direct interactions with the Dara'ang themselves. ASIANetwork announced their grant award in February 2018.
Dayley has led multiple trips to Thailand since 2006, leading three different C of I student groups to Dara'ang villages for multiple homestays. Vinson's expertise in the artistic and technical needs for a high-quality documentary combined with Dayley's experience in Southeast Asian studies will allow them to effectively oversee the student collaboration.
"We were looking for a diverse group of students that had an interest in the project," Vinson said of the project's student-researchers. "We pulled students from my digital art classes and [Dayley's] political economy courses, so we know we have this broad range of expertise to make the most successful documentary we can produce."
Kaytlyn Marcotte, a C of I junior international political economy major, had previously traveled with Dayley to Jakarta, Indonesia on a Model United Nations trip, which sparked an interest in the culture and politics of Southeast Asia. She said when she learned about Dayley and Vinson's project, she applied to join their team as an opportunity to learn more about Thailand.
"This project is extremely special because we have the opportunity to research a community that is not well known and is very unique to Thai politics and culture," Marcotte said. "On top of this unique research experience, we have the opportunity to document our experiences in Thailand through this documentary."
Joining Marcotte will be fellow international political economy students Gavin McCaw and Marine Vieille along with two marketing and digital media majors, Hannah Dalsoglio and Kennedy Alvaro. The student group is meeting weekly to prepare for their trip this summer, learning more about the area and preparing for their dual roles as filmmakers and researchers. While Dayley and Vinson will be there as faculty mentors, the students will perform most of the research themselves.
"I think this is an example of the College's liberal arts direction," Vinson said. "The students are working together on a group project through multiple disciplines, and these are all skills they can find valuable in their future careers."
The $35,000 grant will help pay for the team's trip this summer, while additional funding for film equipment for the project has been secured through The College of Idaho's Mellon-DLA Grant.
This is the second time the C of I has been awarded a grant from ASIANetwork, which is a consortium of Asian Studies programs at 170 liberal arts colleges. In 2011, Dayley and a team of four C of I students studied the political economy of Thailand's tangerine industry, creating another documentary film titled "Tangerine Dreams: Boom and Bust in Northern Thailand."
Following their summer trip in the field, the students will spend the 2018 Fall Semester to complete the research paper and edit the documentary, which will be presented on campus. Plans are also in the works for a presentation of the documentary for Boise's refugee community.
"The students, Dr. Dayley and I are all really excited," Vinson said. "We were ecstatic when the grant came through, and we're all really looking forward to this fun and educational adventure."
The College of Idaho has a 125-year-old legacy of excellence. The C of I is known for its outstanding academic programs, winning athletics tradition and history of producing successful graduates, including seven Rhodes Scholars, three governors, four NFL players and countless business leaders and innovators. Its distinctive PEAK Curriculum challenges students to attain competency in the four knowledge peaks of humanities, natural sciences, social sciences and a professional field—empowering them to earn a major and three minors in four years. The College's close-knit, residential campus is located in Caldwell, where its proximity both to Boise and to the world-class outdoor activities of southwest Idaho's mountains and rivers offers unique opportunities for learning beyond the classroom.  For more information, visit www.collegeofidaho.edu.