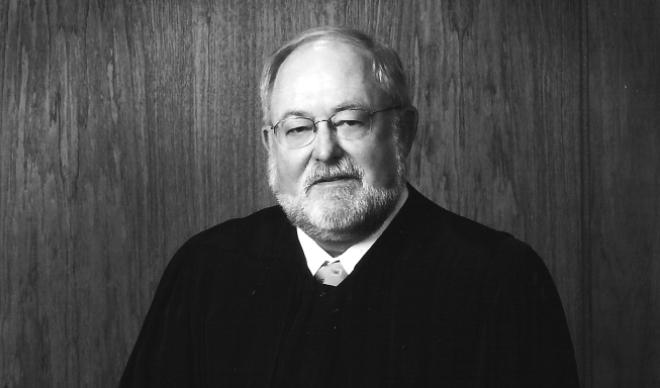 The College of Idaho mourns the loss of Idaho Supreme Court Justice and C of I 1965 alumnus Warren E. Jones, who passed away on Monday, Sept. 3 at the age of 74.
Jones, born in Montpelier, Idaho, was a standout student during his time at the College, where he graduated magna cum laude with a degree in political science and shared classes with future Idaho Governor Butch Otter '67 and Idaho State Senator Chuck Winder '68.
Otter announced Jones' death on Tuesday afternoon over social media, stating he and First Lady Lori Otter received the news with "a heavy heart," recalling the positive memories he and Sen. Winder had of their former classmate.
"I always found him to be fair and balanced in his judicial temperament as well as collegial and impartial in his role on the state's highest court," Otter stated. "Lori and I extend our deepest sympathies to his family."
Winder, too, recalled Jones fondly, remembering the way Jones would regularly reach out to younger students and serve as a mentor during his time at the College.
"Justice Jones was a dear friend and a true student of the law," Winder said. "Even though he was an upperclassman, he was always willing to share his knowledge and life experiences with many of us. My interest in the law and in public service was encouraged by Warren, and he will be missed."
Following his graduation from the C of I, Jones went on to complete his graduate work at the University of Chicago Law School in 1968, where he came heavily recommended by legendary C of I professor George Wolfe, one of Jones' top influences as a student at the College. Jones returned to Idaho following his time in Chicago to work as a law clerk for former Idaho Supreme Court Chief Justice Joseph J. McFadden, starting his career in law at the same place he would end it nearly 50 years later.
Jones started work in private practice for the Boise law firm of Eberle Berlin in 1970, where he became a senior litigator and partner, remaining with the firm for 37 years. He specialized in insurance defense law with additional experience in product liability law, engineering and architectural malpractice cases and commercial litigation. He appeared before the Idaho Supreme Court for 20 cases and went to trial before juries across 122 cases in 38 of Idaho's 44 counties.
Otter appointed Jones to the Idaho Supreme Court in 2007 to replace retiring Chief Justice Gerald Schroeder (himself a 1961 graduate of the C of I), favoring Jones as a strict constitutionalist. Jones remained on Idaho's highest court until his retirement in 2017, having been reelected to the position in the 2008 and 2014 statewide elections.
"I try to be very businesslike, polite," Jones said in a 2007 interview with The Associated Press following his appointment. "The best trial lawyers are people who approach the job in just a very organized, businesslike, polite fashion."
C of I Trustee Mike Elliott '69, a friend of Jones during his time at the C of I who was neighbors with Jones for 15 years after his return to Idaho, said Jones maintained that commitment to the law even after suffering a stroke in 2013. Undeterred, Jones remained on the bench with the aid of his assistants, who helped him up and down the stairs leading to his seat in the chamber.
"Warren was a very principled man, always," Elliott said. "If something was wrong, he would speak out against it, no matter what. He would always stand up for what he believed. That was the kind of person he was."
Elliott said Jones never forgot his roots at The College of Idaho, maintaining strong relationships with the friends he made during his time as a student and often sharing humorous stories with them from his long career in law. A sports fan and a regular golfer, Jones occasionally attended C of I basketball games with Elliott to cheer on the Yotes.
"He had an affinity for the College and the great things the school did for him," Elliott said. "He kept in touch with a lot of people from those days. If he was a friend to you, you would know it – he was excellent to everyone he got to know."
The College of Idaho offers its condolences to Jones' family and friends, including his wife Karen Jones and children Denise and Matt.