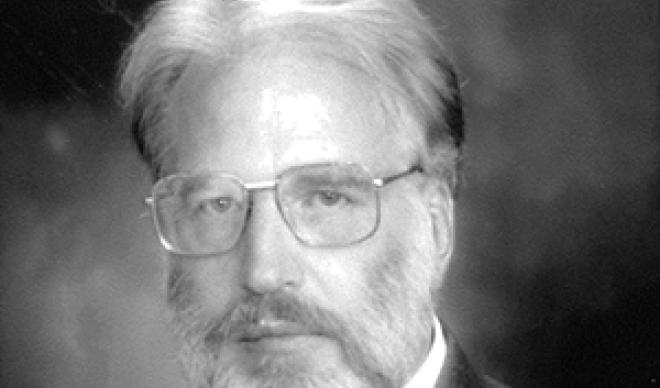 The College of Idaho has produced thousands of bright students in its 127-year history, including seven Rhodes Scholars who have each gone on to success within their chosen fields. Today, the College remembers one such Rhodes Scholar, Thomas G. "Tom" McFadden '68, who passed away on Tuesday, Dec. 12, 2017 at the age of 71.
"Tom was a superb student, and by all accounts a superb human being," said Dr. Louie Attebery '50, C of I Professor Emeritus of English. "He was certainly widely read, always bursting with enthusiasm to learn more and do more, and he took that enthusiasm with him everywhere."
Born in Boise, Idaho in 1946, McFadden began his collegiate studies at Columbia College of New York City for a semester before transferring to the C of I to study philosophy. He immediately distinguished himself as one of the campus' brightest undergraduates, eventually chairing the College's Student Arbitration Board and earning a reputation among his professors as a strong candidate for future success.
"I don't know if I treated him differently than I would any other student, but I certainly encouraged him, challenged him and saw what he would make of it," Attebery said. "He was certainly unique. People may be surprised to learn that he was a great fan of classic country music, especially Jimmie Rogers. Not many expected that from him."
Through the encouragement of Attebery and other celebrated faculty members — Dr. William Chalker, Dr. George Wolfe and Professor Margaret Sinclair among them — McFadden applied for the Rhodes Scholarship, which allows 32 American students each year to study with all expenses paid at any full-time postgraduate course in the residential college of their choice at the University of Oxford, England.
"I would never even have imagined applying for the Rhodes but for teachers like Sinclair, Wolfe, Chalker and Attebery," McFadden said in an interview with C of I's Quest magazine in Spring 2013. "In fact, I was convinced I wouldn't get it, and I didn't want to fail. But the people close to me would not allow me to fail. I know without a doubt that what happened for me at The College of Idaho rarely, if ever, happens at larger institutions."
Ultimately, McFadden became the College's third Rhodes Scholar, and the second of three such scholars in that decade alongside Ted Wills '60 and James Roelofs '69. Following the completion of his studies at the C of I, McFadden traveled to Oxford to study history at Worcester College. McFadden traveled through most of Europe during his time in Oxford, where he was classmates with future U.S. President Bill Clinton.
"As a Rhodes Scholar, you cherish every moment you're there because you realize you're a part of something very special," McFadden recalled about his time there.
Upon returning to the States, McFadden continued his pursuit of higher education, earning a master's in philosophy from Brown University and a master's of library science from the University of Pittsburgh. From there, McFadden held librarian positions around the country, including at Rochester Institute of Technology, Brown University, University of California, Davis, and Northern Arizona University.
McFadden earned the title of librarian emeritus at Union College in New York, where he directed its Schaffer Library from 1997 through his retirement in 2012. A popular figure on the campus with students and among his colleagues, McFadden revived and coached Union's Debate Club, mentored its Ethics Bowl team, and donated nearly 100 rare books from his personal collection of 18th century texts on science, philosophy, history and education.
"Tom was always eager to help anyone in need — for example, buying textbooks for kids who could not afford them or helping international students with food and supplies," said Anastasia Pease, a senior lecturer of English at Union who called McFadden a mentor during his time on the campus. "He was a passionate promoter of liberal arts education, a wise advisor, a great mentor. He worked tirelessly to help students learn and excel. Despite his gruff exterior, Tom was a very kind and tenderhearted man."
The College sends it condolences to McFadden's wife of 30 years, Marguerite "Maggie" Horn, his nine sisters- and brothers-in-law, and all his nieces and nephews.
"It was a great charge and honor to teach and get to know Tom," Attebery said. "He will be missed."
The College of Idaho has a 125-year-old legacy of excellence. The C of I is known for its outstanding academic programs, winning athletics tradition and history of producing successful graduates, including seven Rhodes Scholars, three governors, four NFL players and countless business leaders and innovators. Its distinctive PEAK Curriculum challenges students to attain competency in the four knowledge peaks of humanities, natural sciences, social sciences and a professional field—empowering them to earn a major and three minors in four years. The College's close-knit, residential campus is located in Caldwell, where its proximity both to Boise and to the world-class outdoor activities of southwest Idaho's mountains and rivers offers unique opportunities for learning beyond the classroom.  For more information, visit www.collegeofidaho.edu.