This March, the 2018 Annual Meeting of the Society of Toxicology will attract thousands of toxicologists from around the globe to San Antonio, Texas. Billing itself as "the preeminent toxicology conference in the world," the SOT meeting will feature more than 2,000 presenters sharing groundbreaking research in the field over the four days of the conference.
Two of this year's presenters will be none other than senior College of Idaho science students Claire Otero and Jacob Noeker, whose research both earned them the prestigious Pfizer Society of Toxicology Undergraduate Student Travel Award to attend and present at the SOT meeting with all expenses paid — an honor granted to only 14 undergraduate students in the country.
"We were really excited to hear that we both got these awards," Noeker said. "The meeting will be really exciting and it's something that I've been looking forward to for a while, and to get this travel grant is really big news for all of us."
Both Noeker, a biology major, and Otero, a chemistry major, have each been working in the lab of C of I biology professor Dr. Sara Heggland. Otero, in pursuit of an honors project for the biology department, joined Heggland's Idaho INBRE lab through an internship last summer, while Noeker has worked with Heggland since the spring semester of his freshman year. Their research, which is supported by the Institutional Development Awards (IDeA) from the National Institute of General Medical Sciences of the National Institutes of Health under Grants P20GM103408, has examined the cytotoxicity of e-cigarette liquids, researching how exposure to the liquids affects cell viability.
"It's like a spectrum," Otero said about their findings to date. "We're using different cell lines, but what we've seen in our preliminary findings is that the flavoring of these liquids is what contributes to these levels of cytotoxicity because it varies from flavor to flavor."
Heggland said she regularly attends the SOT's annual meetings, often bringing students with her to present their research at the conference. However, this is the first year any C of I students have received the Pfizer travel award, a rare honor even among the handful of undergraduates who attend the conference each year. Students qualify for the award based on the quality of their submitted abstracts, as well as their academic records and advisor's supporting recommendations.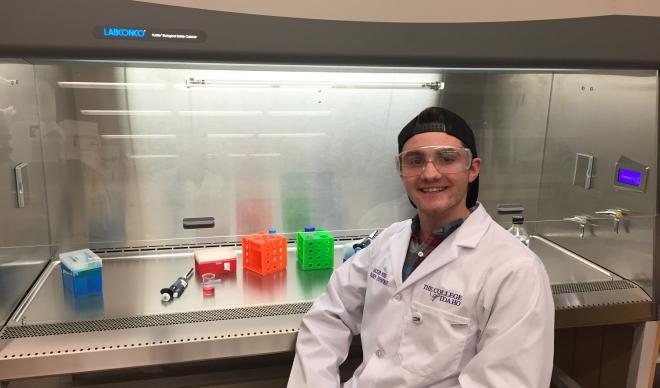 "Jake and Claire's work and their applications showed that the College is highly competitive with students who are coming out of these larger schools with major research opportunities," Heggland said. "They're doing quality work and being recognized for it even on an undergraduate level. I know these two will be prepared. They'll represent The College of Idaho very well."
In addition to their travel, registration and lodging expenses being paid, Otero and Noeker will also be recognized at a special breakfast hosted by Pfizer, Inc. and will be matched with a Pfizer scientist as a mentor for the duration of the conference. Both students will have the opportunity to present their research to thousands of professional toxicologists and will receive hands-on networking opportunities with researchers engaged in the field.
For Noeker, who is currently considering pursuing a Ph.D. in toxicology following graduation, the chance to interact directly with research professionals is one of the biggest benefits of the travel award.
"I'm really excited to talk to the mentors I can meet to see where toxicology research is now, where it's going, and how I can possibly fit into that in the future," Noeker said.
The chance to learn more at the conference is also appealing to Otero, whose goal is to conduct research in pathology and virology in her post-graduate studies.
"As a chemistry major coming up in C of I, I want to work in the overlap between biochemistry and microbiology," Otero said. "Winning this award gives me the chance for more networking in these areas."
Otero and Noeker will attend and present at the conference March 11-15, and will continue their research through the spring semester to present at the College's annual Student Research Conference this April.
The College of Idaho has a 125-year-old legacy of excellence. The C of I is known for its outstanding academic programs, winning athletics tradition and history of producing successful graduates, including seven Rhodes Scholars, three governors, four NFL players and countless business leaders and innovators. Its distinctive PEAK Curriculum challenges students to attain competency in the four knowledge peaks of humanities, natural sciences, social sciences and a professional field—empowering them to earn a major and three minors in four years. The College's close-knit, residential campus is located in Caldwell, where its proximity both to Boise and to the world-class outdoor activities of southwest Idaho's mountains and rivers offers unique opportunities for learning beyond the classroom.  For more information, visit www.collegeofidaho.edu.