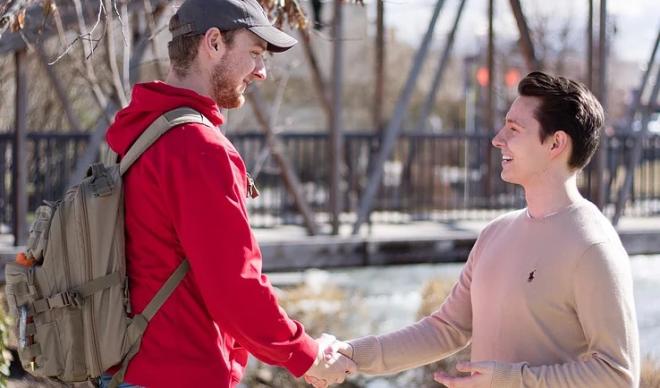 Two years ago as a sophomore at The College of Idaho, Sead Muradbegovic successfully campaigned to join the student senate out of a desire to help the campus community.
Now a senior with a taste for public service, Muradbegovic has his sights set on helping an even wider community as a candidate for the Idaho State Legislature, running as a Democrat for the office of District 10A State Representative.
"As far as youth goes, young people are becoming the new status quo," Muradbegovic said. "We're becoming integrated into politics, and I don't think that should be seen as alarming. I think we should be welcomed as these new voices in this new climate that can help bring change forward."
Muradbegovic is on track to graduate from the C of I this spring, where he studies international political economy and serves as president of the C of I's Young Democrats. He is one of five millennials running for Legislature this cycle, and the youngest among them at 21-years-old. He said his youth is one of the most common questions he's been asked about since becoming the Democratic nominee last May.
"The thing about youth is that a lot of Baby Boomers, in particular, will ask 'What's your experience? What can you do?'" Muradbegovic said. "To that, I usually respond that it's not necessarily about experience itself. We're not robots; we're people. Although I may lack in experience compared to some incumbents right now, I definitely think I more than compensate for it with ambition and bringing a new vision to Idaho politics that many have wished to see."
If he successfully defeats incumbent Republican Rep. Jarom Wagoner on Election Day (Nov. 6), Muradbegovic will be the youngest member of the Legislature, as well as its first-ever elected refugee — Muradbegovic and his family originally hail from Slovakia, which they fled when Muradbegovic was four years old during the Yugoslav Wars. Muradbegovic said being a refugee helped shape his desire to become involved in politics at a young age.
"What [being a refugee] means is that politics is really inseparable from who you are," Muradbegovic said. "I grew up in a very worn down one-bedroom apartment in Twin Falls, Idaho. We got our clothes from nearby thrift stores, and I was trying to learn English as a third language while my parents worked factory jobs. It's very difficult not to consider politics from a young age when you're trying to integrate into a new country."
Muradbegovic's platform aims to represent families facing similar situations. Running on the slogan "Idaho for Working Families," some of Muradbegovic's chief concerns as a candidate include the expansion of Medicaid, living wages, and reinvestment in Idaho education, particularly in making post-secondary education more affordable and accessible to a wider population.
"The truth of the matter is that purchasing power has reduced sharply," Muradbegovic said. "Wages aren't following along with productivity and our working class in Idaho deserves a lot better. Just because we're not in a larger state, it doesn't mean we shouldn't strive for that as well. People shouldn't be forced between paying their heating bills and putting food on the table."
Muradbegovic has received positive reactions from his classmates regarding his campaign, with many even offering to help as volunteers in canvassing and phone banking around the district. He said one of the reasons he is proud to run is to help inspire other young people to join in the political process and allow their voices to be heard in state and local politics.
"If you take the aggregate age of some of us on the volunteer team, you'll find that we're younger than some of the incumbent legislators running right now," Muradbegovic joked. "I think seeing a person so close to their age gives other students enthusiasm. I'm the kind of person they meet every day. This is a better definition of what representative democracy is supposed to be about."
If elected, Muradbegovic said he doesn't want to contribute to the adversarial tones frequently seen in national politics. Instead, he hopes to take bipartisan approaches to each issue, focusing less on party politics and more on pragmatic solutions to local and state concerns.
"I don't think people need to be divided by these partisan lines or any kind of age gap or other demographic characteristics to say it's why we can't work together," he said. "We need to come together and talk about our constituents' interests and the institutions that serve them without making it a red or a blue issue."
Muradbegovic said he doesn't see the race as a stepping stone toward becoming a career politician. Instead, he sees it as a way to get directly involved in the political process and prove a point that anyone from any age or background can give back to their communities.
"Idaho has helped foster my family's integration into U.S. culture, so for me, this is the best way to show that first-generation immigrants aren't just capable of integrating, but we're capable of running for office, and we can do it successfully and competitively," Muradbegovic said.
For more about Muradbegovic's campaign, visit his campaign website here. To register to vote, click here.
The College of Idaho has a 127-year-old legacy of excellence. The C of I is known for its outstanding academic programs, winning athletics tradition and history of producing successful graduates, including seven Rhodes Scholars, three governors, and countless business leaders and innovators. Its distinctive PEAK Curriculum challenges students to attain competency in the four knowledge peaks of humanities, natural sciences, social sciences and a professional field—empowering them to earn a major and three minors in four years. The College's close-knit, residential campus is located in Caldwell, where its proximity both to Boise and to the world-class outdoor activities of southwest Idaho's mountains and rivers offers unique opportunities for learning beyond the classroom.  For more information, visit www.collegeofidaho.edu.