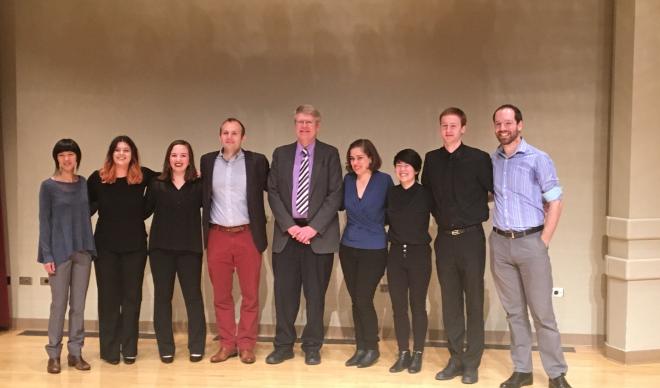 Two years ago, The College of Idaho String Quartet was not selected to compete at the Boise Chamber Music Society's annual Young Artist String Quartet Competition. Last year, the quartet competed, but did not place.
But this year, at the 13th annual competition held on March 17, the quartet not only competed, but won the top prize among the collegiate level competitors, marking the first time since 2011 that C of I's undergraduate quartet received top honors.
"I did not expect to be named the winner, but was really excited when we were," said C of I senior music and biology double major Courtney Kelly, who plays first violin in the C of I quartet. "All four of us work very hard during the year to put our pieces together. It is so nice to receive validation that the hard work we've put into the quartet has been worth it."
Kelly performs in the C of I quartet alongside two fellow seniors, psychology major Haden Duncan (second violin) and chemistry/mathematics-physics major Miranda Tang (viola), and junior art major Heather Green (cello). The quartet is coached by Langroise Trio violist Dave Johnson.
"We were the best quartet on that stage that day," Johnson said about the quartet's performance. "I'm proud of what our quartet was able to accomplish. They do a lot of work preparing on their own and have a lot of artistic ownership over the group. They earned it."
The C of I quartet meets to rehearse as an ensemble for an hour twice each week, once with Johnson and once without. Each member also pursues solo rehearsal on their own time. Most of the quartet has performed together since 2015, even accompanying the C of I Chamber Singers on their 2016 choir tour to China.
"They're used to playing together," Johnson said. "They know each other well and know what to expect from each other."
The C of I quartet was one of six groups selected to perform at this year's competition, and one of two collegiate groups chosen for the event. The competition was adjudicated by the members of Philadelphia's Jasper String Quartet, winners of the prestigious CMA Cleveland Quartet Award. The Jasper Quartet gave direct feedback to each member of the C of I quartet, offering praise for their performance.
"It was incredible performing for the Jasper Quartet," Kelly said. "They are such talented musicians with a lot of experience. They gave us some nice compliments, but also a lot to improve on."
The C of I quartet is scheduled to perform their final recital of the year at the C of I Chamber Music Concert on May 6, an opportunity the quartet is excited to share with the rest of campus.
"I am so incredibly proud of every member of the C of I String Quartet, and thankful to the Langroise Trio, especially Dave Johnson, for taking the time to coach us," Kelly said.
For more information about the College's music program, visit https://www.collegeofidaho.edu/academics/departments/music.
The College of Idaho has a 127-year-old legacy of excellence. The C of I is known for its outstanding academic programs, winning athletics tradition and history of producing successful graduates, including seven Rhodes Scholars, three governors, four NFL players and countless business leaders and innovators. Its distinctive PEAK Curriculum challenges students to attain competency in the four knowledge peaks of humanities, natural sciences, social sciences and a professional field—empowering them to earn a major and three minors in four years. The College's close-knit, residential campus is located in Caldwell, where its proximity both to Boise and to the world-class outdoor activities of southwest Idaho's mountains and rivers offers unique opportunities for learning beyond the classroom.  For more information, visit www.collegeofidaho.edu.