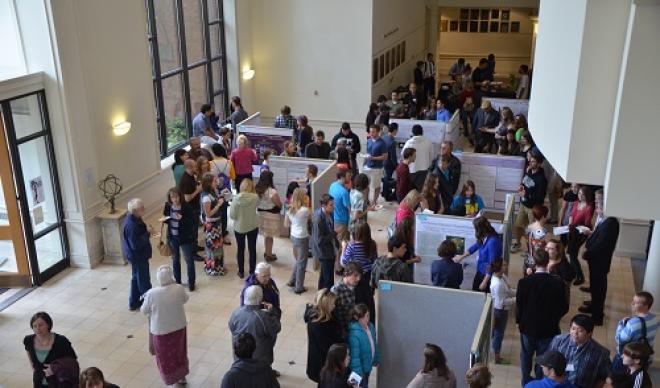 As the 2018 Spring Semester draws closer to its conclusion, it's time for The College of Idaho's students to once again present what they've learned at this year's 13th Annual Student Research Conference, taking place beginning at noon on Saturday, April 28 at several locations across the C of I's campus.
This annual celebration of student creativity and scholarship offers students across all academic disciplines the opportunity to present their own original research to the campus community. Organized by a team of student and faculty volunteers, this year's conference will feature 70 presentations, including 24 oral presentations, 46 posters, and one art exhibition in the form of the 2018 Senior Art Show, which will have a featured reception during the afternoon of the conference.
"One thing most people don't know is that the conference is the second largest student-attended event every year behind Spring Fling," said C of I Physics Associate Professor and SRC Planning Committee co-chair Katie Devine. "We're proud that we have consistently high turnout from students, parents, faculty and community members every year. It's one of the most fun events we get to hold in the spring."
Devine said each of the student presentations is the product of a long period of research and preparation, ranging from work they began preparing at the start of the semester all the way through research they've undertaken from their freshman year onwards. Some students have presented their research at regional conferences prior to the SRC, while others are having their first experience presenting scholarly work.
"For a lot of students, especially students just getting started in research, this is often their very first presentation experience," Devine said. "The hope is that this experience is something that they would like to take further and present at other conferences as well."
Presentations from several academic disciplines will be featured, including natural sciences, social sciences, humanities and fine arts. From "Genetically Modified Potatoes: Friend or Foe?" to "Gender Differences in Romantic Jealousy," unique and interesting research topics can be found throughout the afternoon.
"What's great about the conference is that every discipline is represented and invited to be a part of it," Devine said. "There's a lot that goes on at the conference."
The conference will begin with an opening address from C of I's co-presidents Jim Everett and Doug Brigham at noon at Room 103 in Boone Hall, followed by a series of "fast pitch" presentations from students, who will compete to give the best three-minute pitch of the full presentations they'll give throughout the day.
Following this, the conference will split into a number of presentation rooms throughout Boone Hall for 15-minute oral presentations. At 3:15 p.m., the conference attendees are encouraged to go to the Rosenthal Gallery of Art to view the Senior Art Exhibition "As Above, So Below," after which will begin poster and display presentations in the Langroise Foyer starting at 4:15 p.m.
The conference is free to attend and will feature refreshments at each location throughout the day. For a full schedule of events, click here.
The College of Idaho has a 127-year-old legacy of excellence. The C of I is known for its outstanding academic programs, winning athletics tradition and history of producing successful graduates, including seven Rhodes Scholars, three governors and countless business leaders and innovators. Its distinctive PEAK Curriculum challenges students to attain competency in the four knowledge peaks of humanities, natural sciences, social sciences and a professional field—empowering them to earn a major and three minors in four years. The College's close-knit, residential campus is located in Caldwell, where its proximity both to Boise and to the world-class outdoor activities of southwest Idaho's mountains and rivers offers unique opportunities for learning beyond the classroom.  For more information, visit www.collegeofidaho.edu.