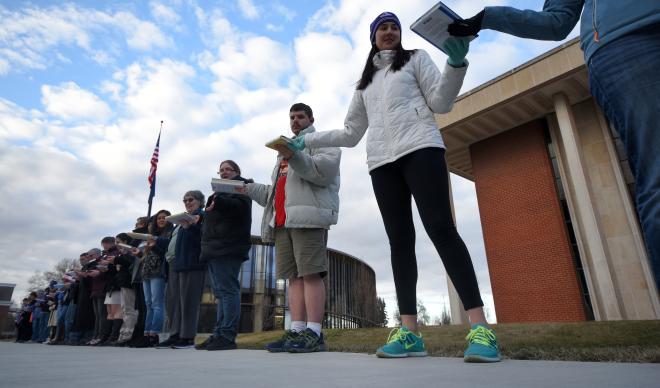 Fifty-one years ago, Bill and Mary Clark were both students at The College of Idaho. It was that year the N.L. Terteling Library first opened and students formed a human chain cutting across campus to move books from the Strahorn Library to their new home.
As it turned out, neither student had been able to attend the first Book Brigade, which moved 70,000 books across campus. But on Feb. 15, 2018, the married couple were on campus to participate in the second Book Brigade, joining over one hundred students, staff, faculty and alumni from the C of I to form yet another chain, this time delivering the final 1,000 books to the Cruzen-Murray Library that opened on Jan. 31.
"It's kind of like being back for the Super Bowl after seeing how exciting the very first one was," said Bill Clark. "We've heard so much about this new library that we couldn't wait to see it for ourselves and make up for when we couldn't help out the first time."
The Clarks were a handful of alumni present for the Cruzen-Murray brigade that had also been students for the 1967 event, joining alumni both young and old to participate. Alumni of all ages and backgrounds found themselves in line standing next to current students and members of the Caldwell community in a line stretching from the steps of Terteling and leading inside the double doors of Cruzen-Murray, where the last of the library's empty shelves waited to be filled.
The C of I Marching Band took step alongside the very first of the books passed, signified by a purple heart-shaped balloon tied to its cover. The Yote himself accompanied the band as they played "Hail to the Purple and Gold" and an arrangement of Ozzy Osbourne's "Crazy Train", clapping his hands and keeping the atmosphere light. One by one, books passed down the line along with laughs.
For Library Director Christine Schutz, who had been stationed near the front of the line from Terteling, watching the books pass along each person was a sense of relief, a job well done after the long construction process of Cruzen-Murray and the busy transition into the new building as construction neared its completion.
"This project has been huge for the College," Schutz said. "Watching all the books going down the line just makes everything feel more real."
For recent graduate Cameron Arnzen '17, who is now a member of the College's staff as a first year academic advisor, it was an opportunity to be part of something that will be remembered for years to come.
"This library will be a bastion for campus for a long time," Arnzen said. "We're making history today, and it's something exciting for so many people to be part of it."
For current C of I senior Alexander Sproule-Fendel, it's a tale that he said he will be certain to remember and brag about to future generations. As one of the students who had originally started moving books into the new library during the 2018 Winter Term, Sproule-Fendel was determined to see the duty through all the way to the end.
"When I bring my kids and my grandkids here someday, I'll be able to say that I remember when the library was still empty," Sproule-Fendel said. "They won't remember it the same way I will, but I'll make sure they can know, because I know it will be something I remember forever."
The College of Idaho has a 125-year-old legacy of excellence. The C of I is known for its outstanding academic programs, winning athletics tradition and history of producing successful graduates, including seven Rhodes Scholars, three governors, four NFL players and countless business leaders and innovators. Its distinctive PEAK Curriculum challenges students to attain competency in the four knowledge peaks of humanities, natural sciences, social sciences and a professional field—empowering them to earn a major and three minors in four years. The College's close-knit, residential campus is located in Caldwell, where its proximity both to Boise and to the world-class outdoor activities of southwest Idaho's mountains and rivers offers unique opportunities for learning beyond the classroom.  For more information, visit www.collegeofidaho.edu.