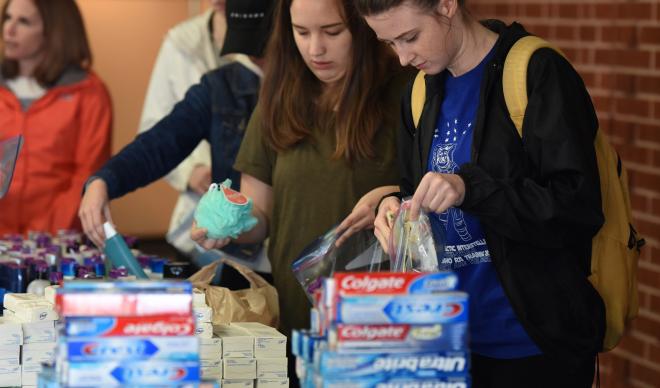 "Our lives begin to end the day we become silent about the things that matter."
College of Idaho junior Irvin Brown stood at a lone podium in the Langroise Recital Hall the night before Martin Luther King Jr. Day to quote the man himself. Brown, an anthropology/sociology major, and over a hundred other members of the C of I community had just finished marching by candlelight to Langroise from Simplot Stadium, crossing Blaine Street and Cleveland Boulevard in honor of the civil rights icon, showing solidarity with his message of equality.
"This is really, really inspiring to me personally," Brown said. "This is a step forward for us as a college as we begin to continue to make our voices heard as the futures of our countries, our neighborhoods and our communities, just by talking about the things that matter."
Sunday night's candlelight march was the first official event of the College's planned events honoring Martin Luther King Jr. Day. Students would have the Monday off from their classes, and would be encouraged to spend their time acting in service to others and opening their minds to empathy with the greater community, events organized by Brown and the rest of the College's Diversity Council.
But that Sunday, marching along the streets with their determined faces illuminated by the candles they held, was a time to kick start what would become a "day on" (rather than a day off) while also honoring those that came before. Leading the march was Idaho state senator Cherie Buckner-Webb, Idaho's first elected African-American state legislator, who also took to the podium that night as the evening's keynote speaker.
"It's fitting that we pause today and show our respect to those that came before, to reflect upon the sacrifice and trials and tribulations that made a way for all of us," Buckner-Webb said. "Dr. King had a powerful vision, one in which we've earned the personhood of all men and women. He looked far beyond his own safety and needs to fight for the rights of the many."
In her address to the students, Buckner-Webb applauded those who had gathered for the march, praising the new generation for embracing a global community and finding new ways to address the same issues of racism, sexism, and xenophobia her generation fought against. She remarked on the privilege the students have to make lasting differences in their communities and encouraged them to continue standing up for what is right.
"With privilege comes opportunity, opportunity to bring about systemic change and to leave a legacy," Buckner-Webb said. "It doesn't come easy…The battle is not yet won, and inaction is not an option. I ask each of you: what will you do personally? What will you do to turn back the injustices that permeate our society?"
The next day, the C of I community took Buckner-Webb's message to heart. While some students traveled off campus to complete a service project and poverty simulation at Farmway Village, a low-income housing development in Caldwell, about two dozen students stayed on campus to participate in a poverty simulation of their own. The simulation was led by Claudia Suastegui, associate branch executive director of the Treasure Valley Family YMCA, who revealed to the assembled students that she, too, had grown up in a family under poverty conditions.
"As a kid, you don't actually know that you're in poverty because you don't know anything different," Suastegui said. "I didn't realize what my mother had to go through when I was young until I took one of these simulations myself."
Participants in the simulation were tasked with attempting to budget for a family of four with a limited income, with each decision made more difficult as life events and unexpected expenses led to the sacrifice of essential needs like regular meals and health insurance.
Following the simulation, the students came together to build hygiene kits for homeless students within Ada and Canyon Counties. For the past two weeks, the College collected donations for the kits, which included soap, shampoo, toothbrushes, toothpaste, deodorant and feminine products. The students formed an assembly line, building kits for 50 male students and 50 female students to be distributed through United Way of Treasure Valley.
"I think we all know at least one person who has been in need like this, even if we didn't know it at the time," said C of I junior Jessica Doan. "Participating in things like this makes me realize that we can take these kinds of things for granted. It's very eye opening."
And despite a campus lockdown following a gun threat on Monday afternoon, it didn't stop a scheduled civil rights forum on gun control. Three College of Idaho professors, Scott Draper, Jasper LiCalzi and Diane Raptosh, each gave their professional perspectives on the history of gun control in the United States, as well as its social and political implications.
"Today's scare makes it clear that conversations like this are necessary in our community," Raptosh said.
Brown said he looks forward to seeing the College's MLK Day traditions carry forward in the years to come.
"We are here to be those lights for our communities, and we've got a lot more doing to do," he said.
The College of Idaho has a 125-year-old legacy of excellence. The C of I is known for its outstanding academic programs, winning athletics tradition and history of producing successful graduates, including seven Rhodes Scholars, three governors, four NFL players and countless business leaders and innovators. Its distinctive PEAK Curriculum challenges students to attain competency in the four knowledge peaks of humanities, natural sciences, social sciences and a professional field—empowering them to earn a major and three minors in four years. The College's close-knit, residential campus is located in Caldwell, where its proximity both to Boise and to the world-class outdoor activities of southwest Idaho's mountains and rivers offers unique opportunities for learning beyond the classroom.  For more information, visit www.collegeofidaho.edu.