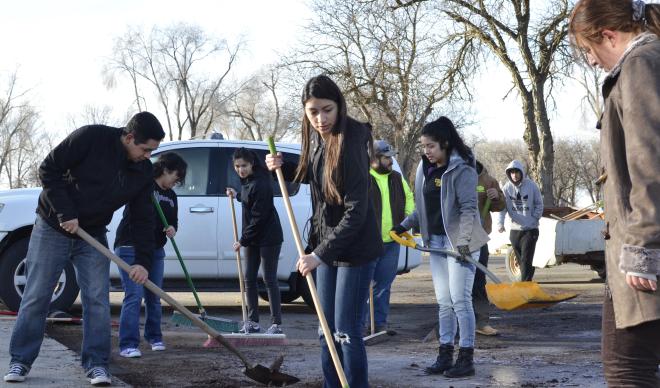 The College of Idaho embraces Martin Luther King Jr. Day as a "day on" experience, rather than a day away from studies. During this day, one of the activities provided for C of I students not only helped them understand poverty, but it also provided them with the tools to make social change within a local community. 
Eleven current C of I students led by Arnold Hernandez, C of I's director of inclusion and intercultural engagement, embarked on vans within the early morning of MLK day to head toward Farmway Village. Farmway Village is a housing development in Caldwell that provides homes for seasonal farmworkers, as well as low-income families. The group's objectives throughout the day were to understand the importance immigrant laborers played within local rural communities along with providing community assistance. 
Mike Dittenber, executive director of Farmway Village, provided students the opportunity to help local residents by allowing the students to clean gutters along the residential houses of the community. These dedicated and hard-working students preformed the task using a mix of shovels, rakes, and snow pushers. A mixture of ice, dirt, and leaves along the gutters provided a challenge, but this did not stop the students from working two hours straight without any signs of hesitation. During this short time period, the students cleared out three long stretches of residential roads, which provided aide to at least 30 homes within the community.
The community assistance is more than a simple clean up job for students here. "Being part of a day on experience humbles you," said Jose Cordova, a C of I senior who is studying health science. "It humbles you because you go through the struggles that these people have gone through rather than just taking the day off. If people were to take the day off then they would probably just do their own thing where they don't really reflect on why this day is celebrated nationwide and why it's so monumental to American history." This day of service reminded Cordova of the things he may take for granted on his day-to-day basis of life, allowing him to reflect on the privileges of being a citizen within the United States.
Senior Elizabeth Arredondo added to the importance of service within the community by saying, "MLK day is special to me because, in a way, we are answering one of MLK questions which is 'What are you doing for others?' On MLK day we answer this question through our actions. We go out and help our neighbors, volunteer, do community services etc. MLK day is the day where we think about others and find ways to help them."
Hernandez has spearheaded MLK day activities for the College for the past three years, but this is only his second time taking students to Farmway Village. Because of the major snowstorms within Idaho last year, the students focused on painting indoors for an entire day, but during this year's shortened visit, Hernandez added an additional presentation before the students started providing community assistance. The presentation focused on the group's other objective of learning about the importance of immigrant laborers, as well as providing contextual information on how labor camps came to be established within the United States.
The presentation in itself was enough to draw one C of I student to be a part of this year's day on experience. "I decided to be a part of the Farmway Village Service Project because it is something that I can relate to," said senior Spanish major Elias Arredondo. "Many of my family members came to the U.S. through farm contracts and they have very similar origins to the people that live there today."
Altogether, The College of Idaho's day on experience allows students to reflect on themselves and society instead of taking the day off. Martin Luther King Jr. Day throughout the College provided students with an abundance of activities but, Farmway village paved the way toward a small step in social change.
"Right now were two sticks rubbing together," Hernandez said. "We're trying to start a big fire. We know that in order to start a fire with two sticks, it's going to take time, but once the flame gets going we're not going to let it go out."
The College of Idaho has a 125-year-old legacy of excellence. The C of I is known for its outstanding academic programs, winning athletics tradition and history of producing successful graduates, including seven Rhodes Scholars, three governors, four NFL players and countless business leaders and innovators. Its distinctive PEAK Curriculum challenges students to attain competency in the four knowledge peaks of humanities, natural sciences, social sciences and a professional field—empowering them to earn a major and three minors in four years. The College's close-knit, residential campus is located in Caldwell, where its proximity both to Boise and to the world-class outdoor activities of southwest Idaho's mountains and rivers offers unique opportunities for learning beyond the classroom.  For more information, visit www.collegeofidaho.edu.