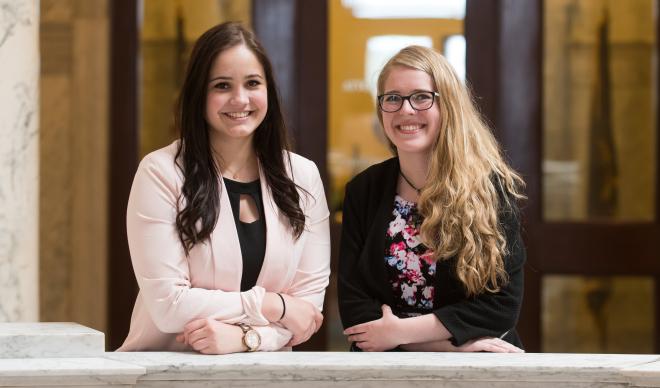 Nearly two dozen female undergraduates, representing six Idaho colleges and universities, recently spent a week in Boise attending NEW Leadership Idaho. This program is a political "bootcamp" designed to encourage more women to become leaders in their community and to run for political office. Boise State hosted the residential workshop, with students living on campus and attending a minimum of 10 hours a day in workshops then returning to the dorms for independent and group work.
The bipartisan curriculum is based on a program developed by the Center for American Women in Politics (CAWP) but has been adapted to include training specific to Idaho. For example, Idaho's program emphasizes local leadership in the form of nonprofit work and participation in city and county politics as opposed to CAWP's more targeted goal of encouraging women to run for higher office.  Director Lori Hausegger points out that public service leadership is needed at all levels and for many women, the starting point is local.
Research suggests that women are just as likely as men to be elected when they run for an office; however, they are considerably less likely to run. Women typically need to be asked multiple times before they will seek public office, whereas men don't express that hesitation, regardless of their level of qualification. As Hausegger says, "we want to make that first ask now and show young Idaho women that they are every bit as qualified as their male peers."
This was the fifth year for Idaho's NEW Leadership program so about a third of the participants are still in college. However, Hausegger points to signs that the program is beginning to show results. "One of our students was recently hired as Senate Minority Chief of Staff, another is working as a Program Specialist in a nonprofit, a young woman still attending Boise State is the Campaign Manager for District 18 and just last week one of our former students was in Washington DC, where a team she was on won a national campaign to 'Innovate Against Hate.'"
On the first day of this year's training students were asked to rank their likelihood of running for office on a scale of 1 to 10, with 10 being the most likely. They were then asked the same question the last night of the workshop. The number of students who rated themselves a 7-10 doubled over the course of the week. Hausegger notes that this is significant not just for the raw numbers but because some students noted that although they were still unlikely to run for office, they were now considering options such as lobbying for a cause they believed in or running a campaign for someone else.
The College of Idaho sent two students to the program in 2018 and has participated in the program each of its five years. This year's students were Hadley Reeves, Business Administration and Sara Shockley, Political Economy. Reeves entered the program thinking her likelihood of running for political office was about a 5 but by the end of the week rated herself a 9. Reeves said she met amazing and inspirational women throughout the week that "encouraged her to become more involved and gave her the confidence to believe she could accomplish what she set out to do." Shockley echoed Reeve's comment about meeting amazing women and also commented that she "feels like I can have more of an impact than I thought."
Collaboration and civility are common themes throughout the week. Not only do students participate in workshops designed to teach them these skills but that message is reinforced through the choice of guest speakers. Representatives Ilana Rubel (D) and Christy Perry (R) have been involved with NEW Leadership Idaho every year since its creation in Idaho and made a joint appeal for support at NEW Leadership's Mentoring Reception. In all, 9 Republican legislators and 9 Democrat legislators have participated in NEW Leadership Idaho.
National Education for Women's (NEW) Leadership is an award-winning program designed to educate and empower the next generation of women leaders. The Center for American Women and Politics (CAWP) at Rutgers, the State University of New Jersey, developed the innovative program in 1991 and branched out to invite other universities into its Development Network.
The first Idaho program was held in 2014. NEW Leadership Idaho is administered by Boise State's School of Public Service, which allows program participant's close proximity to our state legislature. However, to fulfill its mission and be successful, New Leadership requires wide spread student participation from all of Idaho's Colleges and Universities. Learn more at https://sps.boisestate.edu/new-leadership/.
The College of Idaho has a 127-year-old legacy of excellence. The C of I is known for its outstanding academic programs, winning athletics tradition and history of producing successful graduates, including seven Rhodes Scholars, three governors, and countless business leaders and innovators. Its distinctive PEAK Curriculum challenges students to attain competency in the four knowledge peaks of humanities, natural sciences, social sciences and a professional field—empowering them to earn a major and three minors in four years. The College's close-knit, residential campus is located in Caldwell, where its proximity both to Boise and to the world-class outdoor activities of southwest Idaho's mountains and rivers offers unique opportunities for learning beyond the classroom.  For more information, visit www.collegeofidaho.edu.