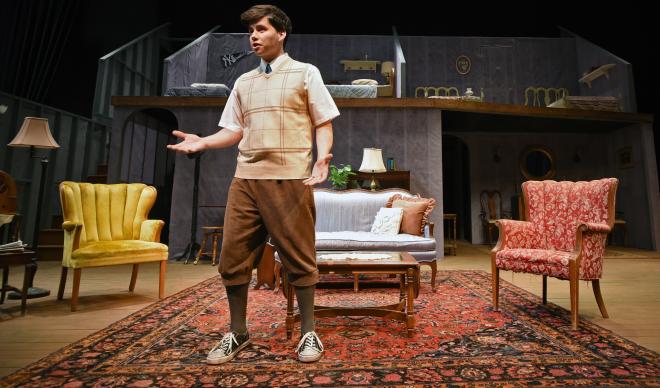 Growing up is never easy – no matter the age or the timing, adolescence brings universal challenges. Those challenges are hard enough to face in a vacuum – the search for one's identity, the fight to understand sudden changes – but adding a full house of siblings, cousins and extended family in the midst of the 20th century's greatest economic downturn certainly doesn't make finding oneself any easier.
The College of Idaho Theatre Department aims to bring audiences back to 1930s Brooklyn, New York in the coming-of-age comedy "Brighton Beach Memoirs," written by Neil Simon and directed by Deborah Penrod. The show will run at 7:30 p.m. from Nov. 1-3 and Nov. 8-10 with 2 p.m. matinee shows on Nov. 4 and Nov. 11 in the Langroise Studio Theatre on the C of I campus.
"The play is traditional, but it reaches out to the audience in ways that can still be applied to the modern day," said Penrod. "I think people will relate strongly to these relationships and remember their own youth."
The play follows the almost 15-year-old Polish-Jewish American Eugene Morris Jerome, portrayed by C of I sophomore theatre major Brian Jankowski, an aspiring writer who recalls his experiences growing up in the Brighton Beach section of Brooklyn, sharing a home with his parents, his older brother, his widowed aunt and two female cousins. Eugene frequently breaks the fourth-wall during the play, sharing his humorous and at times exasperated thoughts directly with the audience.
"Audiences might not expect how relatable this show will be," Jankowski said. "It takes these small and tight experiences of this family and it's something you can see yourself in. It's a very high energy show."
Although the play focuses on Eugene's experiences, Eugene's family has their own challenges to work through. C of I senior English major Kaitlin Heller, who portrays Eugene's strong-willed mother Kate, said one of the best parts of the play is tracing how the relationships among the family evolve throughout the play.
"It's been challenging to portray all these different kinds of relationships," Heller said. "I'm not just playing a mother – I'm playing a wife, I'm playing a sister, and the emotions that spring from all of these different aspects run constantly through the show. The show uses the anatomy of real life that way, and I can look back on how I relate to my own family as I relate myself to Kate."
The 1930s come alive through the show's distinctive color palette and vintage perspective. Senior theatre and English double major Madison Hartwell, the show's costume designer, said looking at the show like a memoir heavily inspired the design choices.
"It's a period piece, so it's about more than just thinking about the colors and the shapes involved," Hartwell said. "It's important to remember that this is Brooklyn how Eugene remembers it, so we needed to take his perspective into account."
Penrod said watching the cast grow into the show since starting the rehearsal process in September has been one of her favorite parts of the production.
"When I look at how we've progressed over the last eight weeks, I'm really impressed with how the cast has figured this show out," she said. "We've continuously worked to improve and I think it will really show when we open."
Tickets can be purchased at the box office in Langroise or online at www.collegeofidaho.edu/theatre-productions. Tickets are also available for purchase over the phone by calling the Langroise Box Office at (208) 459-5426.
The College of Idaho has a 127-year-old legacy of excellence. The C of I is known for its outstanding academic programs, winning athletics tradition and history of producing successful graduates, including seven Rhodes Scholars, three governors, and countless business leaders and innovators. Its distinctive PEAK Curriculum challenges students to attain competency in the four knowledge peaks of humanities, natural sciences, social sciences and a professional field—empowering them to earn a major and three minors in four years. The College's close-knit, residential campus is located in Caldwell, where its proximity both to Boise and to the world-class outdoor activities of southwest Idaho's mountains and rivers offers unique opportunities for learning beyond the classroom.  For more information, visit www.collegeofidaho.edu.