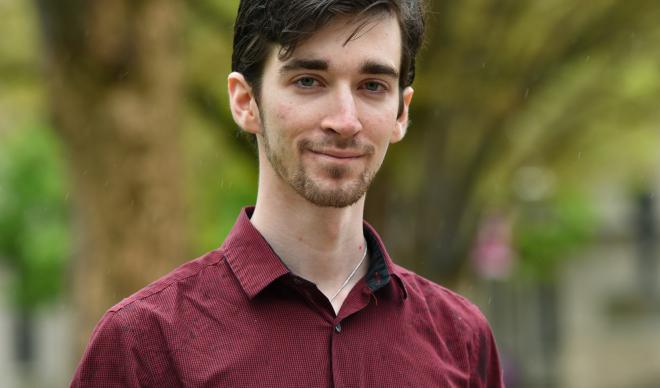 College of Idaho theatre student Casey Alcoser has had a busy start to 2018. From co-directing a student-led production of "Laundry and Bourbon" and "Lone Star" during the winter term and accepting the title role in the C of I's upcoming spring production of Moliére's "Scapin," Alcoser has immersed himself in the world of collegiate theatre for his final undergraduate semester.
Alcoser will add playwright to his list of accomplishments at this February's Region VII conference of the Kennedy Center American College Theatre Festival between Feb. 19-23. Alcoser's ten-minute play, "h/ECHO/kes" (pronounced as "he chokes"), has been named a regional semifinalist for the KCACTF National Playwriting Program — the first C of I student in the program's history to have their play performed at the regional conference.
"I was not expecting to be chosen," Alcoser said. "I'm very happy that it was, of course, but the play isn't a traditional read when you first look at it. Clearly, I must have done something the judges enjoyed, but whether it's something innovative or something novel, I don't know."
Alcoser submitted the play for consideration to be performed at the KCACTF Region VII Conference, which accepts submissions from students primarily residing at schools in the Pacific Northwest. Each year, up to six plays of both the 10-minute and one-act category are selected by KCACTF judges to be showcased at the regional level. From there, two plays of each category are chosen to move on as national semifinalists to be performed at the KCACTF National Festival in Washington D.C.
Alcoser's "h/ECHO/kes" takes inspiration from the stage presence and style of slam poetry, featuring two characters stuck outside an apartment building during a rainstorm and trying to reach common ground despite radically different communication styles. The play itself is structured like slam poetry, featuring unique line breaks and layered wordplay and soundplay.
"I approached this play as a collection of my own thoughts," Alcoser said about the writing process. "Most of the slam poetry in the piece is poetry that I have collected over my years as a writer, and here they all coalesced into this one expression of my frustrations and paranoias and fears and adorations."
The stylization of the play's title is as layered as the piece's dialogue. Alcoser said the line breaks reflect how the two characters frequently try to talk over each other to get their points across, but also references the Echo of Greek mythology, an Oread who was cursed by the goddess Hera to only speak the last few words spoken to her.
"That myth was one of the main inspirations of the play," Alcoser said. "Having this man talk to this person who is throwing all his insecurities at his face, just like Echo would be able to…By the end of it, I realized that what I was doing was giving a voice to my self-doubt and letting it scream at me, and just seeing what hit the wall there."
Alcoser submitted his play for consideration last November, learning that his play would be a semifinalist just before C of I entered into its winter break. Since then, he said he has gone back through his original submission to reacquaint himself with the piece and make adjustments to the dialogue as needed. Throughout the regional conference, Alcoser will work with other student actors and a supervising director to put on the play.
Alcoser said it was an honor to be one of the plays selected for the conference, where he hopes the play will be received well for its non-traditional structure.
"Everyone loves something weird," he quipped.
The College of Idaho has a 125-year-old legacy of excellence. The C of I is known for its outstanding academic programs, winning athletics tradition and history of producing successful graduates, including seven Rhodes Scholars, three governors, four NFL players and countless business leaders and innovators. Its distinctive PEAK Curriculum challenges students to attain competency in the four knowledge peaks of humanities, natural sciences, social sciences and a professional field—empowering them to earn a major and three minors in four years. The College's close-knit, residential campus is located in Caldwell, where its proximity both to Boise and to the world-class outdoor activities of southwest Idaho's mountains and rivers offers unique opportunities for learning beyond the classroom.  For more information, visit www.collegeofidaho.edu.