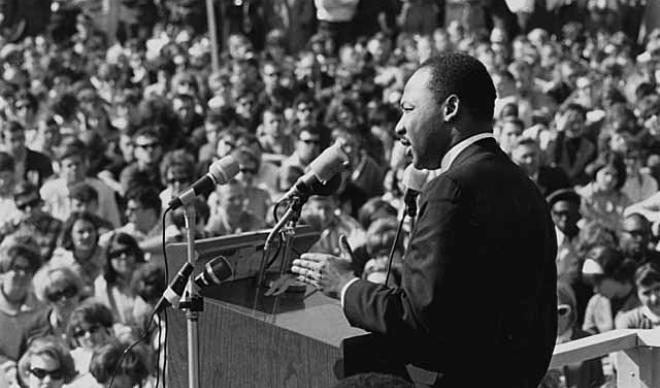 To honor the legacy of Martin Luther King Jr., the College of Idaho has planned a number of events both before and on Martin Luther King Day meant to encourage the community to unite against inequality and promote service and empathy on both a local and national level.
"We're excited to hold these events," said Arnold Hernandez, C of I's director of inclusion and intercultural engagement. "We're eager to get the word out and make this year's events our best yet."
Starting at 7 p.m. on Sunday, Jan. 14, the day before Martin Luther King Day, the C of I will host a candlelight march beginning at Simplot Stadium in Caldwell leading to the steps of Boone Hall on the C of I's campus. All members of the community are encouraged to join the march, which will be led by Idaho state senator Cherie Buckner-Webb, who will speak upon arriving at Boone Hall.
Buckner-Webb has served in the Idaho State Legislature since 2010, first representing the Boise-based District 19 in the Idaho House of Representatives before being elected as the district's senator in 2012. Buckner-Webb is Idaho's first elected African-American state legislator, and its first African-American female legislator.
"I can't think of anyone better to deliver an address before Martin Luther King Day than Cherie," Hernandez said. "With her achievements and her history, there's no one who could be more fitting."
Classes on C of I's campus will be cancelled on Martin Luther King Day, and members of the student body, staff and faculty are all encouraged to attend the events that will be held throughout the day on Monday, Jan. 15.
Two different poverty simulations will be held. Off-campus, Hernandez will lead a cohort of students to visit Farmway Village in Caldwell, a local low-income housing development, to visit a historically significant labor camp and learn about the role immigrant laborers played on local economies and the agriculture industry, as well as provide service for the community. Transport to Farmway Village will leave the parking lot at C of I's McCain Student Center at 9 a.m.
On campus, a second poverty simulation will begin at 10:30 a.m. in the Simplot Dining Hall and will be facilitated by Claudia Suastegui, associate branch executive director for the Treasure Valley Family YMCA.  Suastegui will lead participants in a simulation experience designed to allow participants to understand what it might be like to live in a typical low-income family trying to survive month to month, sensitizing participants to the realities faced by low-income individuals.
At 11 a.m., hygiene kits will be organized by volunteers to aid local school districts with the help of United Way of Treasure Valley. C of I Student Affairs is currently collecting various hygienic products to create packs for homeless youth in Canyon and Ada Counties, which will be distributed by United Way through local school districts.
Donations will be accepted at C of I's ResLife office in Hendren Hall and at the front desk in the McCain Student Center. Items can include but are not limited to razors, shampoo, toothpaste, deodorant, toothbrushes, feminine hygiene products and bars of soap. Organization of the kits will be held in the Simplot Dining Hall.
At 1:30 p.m., C of I will hold a civil rights forum on the hot-button topic of gun control in the Langroise Recital Hall. The forum will feature speakers from within the C of I community and will be moderated by Vice President for Student Affairs Paul Bennion and Vice President for Academic Affairs David Douglass.
Attendees of all events will be encouraged to attend a reflection session at the McCain pub area starting at 2:30 p.m., which will wrap up the day's festivities.
All events are free to attend, with attendance encouraged for both the C of I community as well as the greater Treasure Valley community.
The College of Idaho has a 125-year-old legacy of excellence. The C of I is known for its outstanding academic programs, winning athletics tradition and history of producing successful graduates, including seven Rhodes Scholars, three governors, four NFL players and countless business leaders and innovators. Its distinctive PEAK Curriculum challenges students to attain competency in the four knowledge peaks of humanities, natural sciences, social sciences and a professional field—empowering them to earn a major and three minors in four years. The College's close-knit, residential campus is located in Caldwell, where its proximity both to Boise and to the world-class outdoor activities of southwest Idaho's mountains and rivers offers unique opportunities for learning beyond the classroom.  For more information, visit www.collegeofidaho.edu.