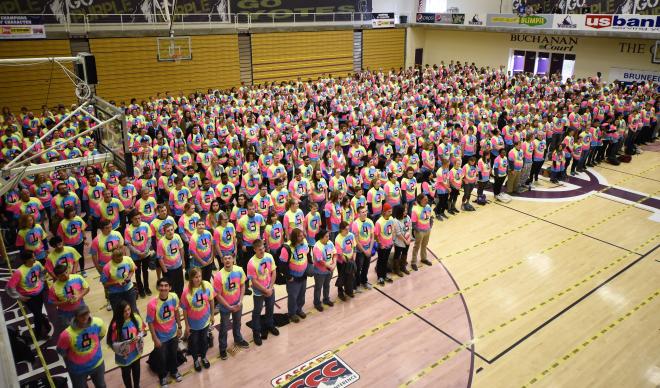 The College of Idaho Math Club has celebrated March 14 as Pi Day for 15 years, regularly showing their love for the mathematical constant through pastries and paper Pi chains. But this year, the 15th anniversary of the first C of I Pi Day, the math club put out a call to the campus community for help in entering into the Guinness Book of World Records — creating the longest human representation of Pi.
And despite the rain in the day's forecast, the campus community turned out in droves. They didn't just want to celebrate Pi; they wanted to become Pi.
"I'm so glad so many people could come, and I'm so proud of our community for coming together for this," said C of I senior Natasha Dacic, who led the event's organization as president of the C of I Math Club. "It wasn't just students — I saw staff, I saw faculty, and I saw families all pouring in and helping us make history. It's an incredible feeling."
This year's Pi Day was a culmination of months of planning. Dacic and the rest of the Math Club had worked to organize the event since November, receiving clearance from Guinness representatives, recruiting volunteers to help assist on the day, and ordering 600 t-shirts, tie-dyed in the same fashion as the Math Club's shirts had been for years of Pi Day celebrations. Each shirt represented one digit of Pi.
Participants poured into the J.A. Albertson Activities Center with an air of excitement. Many professors had allowed their students to come participate in the world record attempt, and several members of the faculty themselves joined the line of digits.
"I didn't think that would be how I would go down in history, but here we are," joked English professor Dr. Eric Spencer.
Together, 600 participants formed into the line, unofficially breaking the previous record of 520 people set exactly one year prior by Città di Todi in Todi, Pergia, Italy. The gymnasium of JAAC was packed with colorful t-shirts and laughter as each participant took their place in the line, conferring with volunteers to determine where specifically they needed to stand, going shoulder to shoulder with friends and fellow Pi lovers.
C of I senior Dallin Kroon arrived close to 12:15 p.m., which is when the volunteers began to distribute the t-shirts and arrange the participants into one long, winding exact Pi combination. He was one of the last to receive a shirt, and narrowly avoiding becoming one of the 50 people who were still in line when the supply of 600 shirts was exhausted.
"If I had been just a little bit later, I would have missed out on this," Kroon said. "I'm lucky to have been able to be here."
It wasn't just students and staff that arrived to take their place in the record books. Some C of I alumni had also decided to make the trip back to Caldwell to join in the line themselves, including J.T. Garner '13 and Shealene Zitny '13, who both used their lunch hours to participate in Pi Day, one of their favorite C of I traditions.
"Pi Day is something that I looked forward to every year I was on campus," Garner said. "When I heard about this, I wasn't surprised. C of I is always about doing the next big thing. This is another way for the school to lead the way."
Ultimately, the record won't be official until Guinness accepts the written and recorded evidence of the day, which Dacic said will take about 12 weeks. However, it didn't stop all the participants from cheering as soon as the 600th member took their place in line.
"We'll just have to celebrate again when things become official this summer," Dacic said.
Click here for a feature about the record attempt produced by KTVB Channel 7!
The College of Idaho has a 127-year-old legacy of excellence. The C of I is known for its outstanding academic programs, winning athletics tradition and history of producing successful graduates, including seven Rhodes Scholars, three governors, four NFL players and countless business leaders and innovators. Its distinctive PEAK Curriculum challenges students to attain competency in the four knowledge peaks of humanities, natural sciences, social sciences and a professional field—empowering them to earn a major and three minors in four years. The College's close-knit, residential campus is located in Caldwell, where its proximity both to Boise and to the world-class outdoor activities of southwest Idaho's mountains and rivers offers unique opportunities for learning beyond the classroom.  For more information, visit www.collegeofidaho.edu.