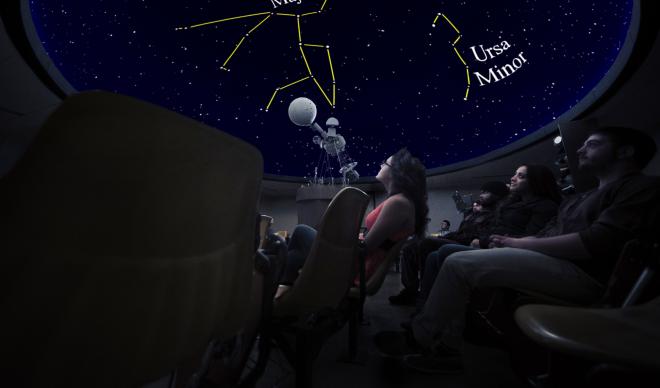 Although most College of Idaho students are off campus for summer vacation, the learning is ongoing at the Whittenberger Planetarium, which is set to host a variety of shows this summer to celebrate the upcoming summer solstice as well as mythological tales from around the globe.
The Planetarium will host its first summer show for the public at 7:30 p.m. on Thursday, June 14, exactly one week before the 2018 summer solstice. Planetarium Director Amy Truksa will explain the meanings of equinoxes and solstices and the circumstances that bring them about, as well as an overview of the constellations, planets, and moon that will be visible in the June sky. Truksa will also discuss some common misconceptions about the summer solstice.
"Many people think that summer occurs when the Earth is closest to the sun," Truksa said. "This is true for the southern hemisphere, but Earth is actually farthest from the sun during our northern hemisphere summer."
Events will continue in July with two dates of "Storytelling in the Planetarium," which will feature the duo of Truksa and professional storyteller Jim Cogan telling a variety of stories about the constellations, planets, and moon from multiple mythologies from around the world.  This annual event has featured stories passed down from Greek, Roman, German, Native American, Chinese, and Pacific Island mythologies.  The shows will be held at 7:30 p.m. on Friday, July 13 and Saturday, July 14, with an additional 2 p.m. show on Saturday.
Cogan began his storytelling as a history teacher at Jefferson Junior High School in Caldwell in the late 1970s. After several years as a teacher and administrator in Ketchum, Idaho, Cogan became a professional bard, traveling throughout the U.S. as a highly acclaimed family programmer, entertainer and educator.
"I like that Jim selects stories from a variety of cultures around the world because it helps communicate the universality of the concept of constellations and mythologies surrounding them," Truksa said.
Truksa said the planetarium's summer programs are a fun and unique way to learn more about the night sky, making any further summer experiences richer thanks to some basic astronomy background.
"It is family-friendly, unique, affordable, educational, and timely as summer is often a time that families go camping and have the opportunity for fantastic stargazing experiences," Truksa said.
Tickets for the Summer Solstice show cost $3 for children ages 4-17 and $6 for adults.   Tickets for the Storytelling shows cost $5 for children ages 4-17 and $8 for adults.  Please no children under the age of 4. Reservations and payment are due in advance and can be purchased at www.collegeofidaho.edu/planetarium. Seats will be forfeited to walk-ins 10 minutes before show time. The planetarium is located in Boone Science Building near Jewett Auditorium at the corner of 20th Ave. and Fillmore St. in Caldwell.
For any questions regarding reservations, please contact Kinga Britschgi at [email protected]o.edu or at (208) 459-5211.