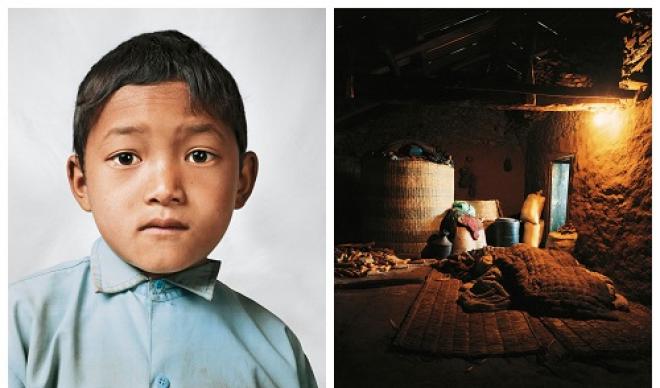 Caldwell Fine Arts, known for music and dance performances for over 50 years, strides into the world of visual art with the celebrated photography exhibit by James Mollison, "Where Children Sleep."
The public is invited to an opening reception at 4 p.m. on November 8 in the new Cruzen-Murray Library on The College of Idaho Campus. The reception is free, and refreshments are provided.
In this revealing series of photographs, Mollison tells the diverse stories of children in many different countries and circumstances. Each studio-style portrait is accompanied by a detailed study of the child's "bedroom," which can range from elaborate sanctuaries to the barest spaces set aside for sleep. The photographs and their related didactic materials convey the story of a universal childhood, full of insecurity, hope, pain, comfort, and doubt. Economic inequality, children's rights, and how we are defined by our possessions and formed by our circumstances are some of the complex social, typological, and cultural issues that resonate in Mollison's work. 
 
The project, in all its diversity, is frankly observant and often surprising. Mollison's subjects convey the simple truth that all children, whether from a first- or third-world economy, need to be nurtured and protected. As the very concept of sleep and personal space conveys, Where Children Sleep is, above all else, a portrait of vulnerability. 
 
Executive Director Alison Moulton hopes this exhibit will be a positive influence on our community, and maybe even change the world…at least a little. "I saw this exhibit last year and knew that we needed it as part of our offerings at Caldwell Fine Arts this year," she said. "It is moving and impactful. I've never experienced visual art that has stayed in my mind and heart for so long after viewing it."
She hopes families and community members will come experience the exhibit together and let it be a springboard for many discussions both in the library and at home. The exhibit will offer 'Talk Tables' where provided questions can spur conversation about the issues the exhibit presents such as poverty, innocence, inequality, politics, and social responsibility. 
 
The opening reception features a guest speaker, local philanthropist Kenton Lee. Lee is the founder and inventor of The Shoe that Grows, and is passionate about practical compassion. He'll speak on "The Power of Small Things." Tours of the exhibit are provided during the opening reception, and community members can enjoy free refreshments. The exhibit is open for further viewing during the month of November from 9-21, Monday through Friday, 8 a.m through 5 p.m. Extended viewing hours and organized talk tables are offered Thursday, Nov. 15  from 8 a.m through 7 p.m. It is housed at the new Cruzen-Murray Library at The College of Idaho.
There is no charge to view the exhibit or attend the reception, but donations are welcomed and encouraged.  
 
Visit www.caldwellfinearts.org for more information.