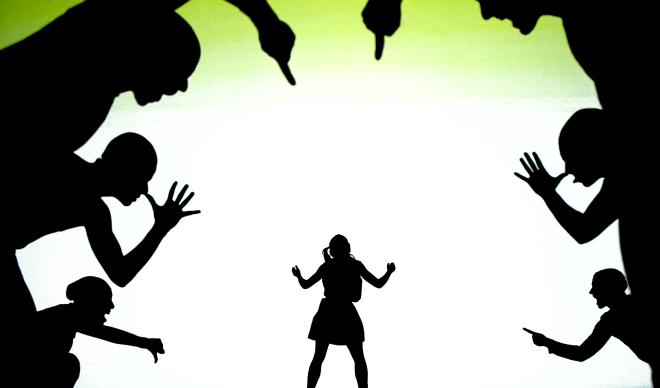 The members of Catapult Shadow Dance have captivated American audiences with their unique style of shadow artistry for years — and on March 27, the company will perform in Caldwell on the College of Idaho's campus as part of Caldwell Fine Arts' 2018 season. 
Millions fell in love with Catapult as they brought the art of living shadows to prime time TV. Catapult wowed audiences with such moving performances on America's Got Talent that a judge commented, "It's very hard to get me emotional—you did. You stole the show tonight." Their four performances on the hit show showed the range of human emotion through the unique medium of shadow. They responded to the 2013 Newtown Elementary shootings with a beautiful celebration of life with their dance to Somewhere over the Rainbow, and their powerful anti-bullying message in Stand by Me. They've toured extensively across Europe and the US, and are on a month-long US tour that includes a stop on Tuesday, March 27 at Jewett Auditorium on The College of Idaho campus as part of the Caldwell Fine Arts series.
Dancers perform behind a screen with musical accompaniment, using only their bodies and simple props for their unique brand of storytelling. The group was formed Adam Battelstein, who spent 19 years with the world-renowned dance company, Pilobolus, and soloed at Carnegie Hall. He especially enjoys the group dynamics of his latest endeavor. "Catapult Entertainment is collaborative by nature and one of the ways that we live up to our unusual name is by launching ideas at each other. Sometimes these ideas land with a thud and sometimes they explode and blow us away.  When ideas explode they change the creative landscape and there is great rejoicing as we run around like kids exploring and playing in our newly expanded world," Batteltein said. That creative spirit is evident in the unique and dynamic performances that continue to wow audience across the globe.
In conjunction with the Catapult performance, Caldwell Fine Arts continues its tradition of offering a Concert Connection before performances. Mike Hartwell from the C of I Theatre Department will give insights into the art of shadow theatre at 6:15 pm in Simplot Dining Hall. The Concert Connection is free. Dinner is served cafeteria-style and includes choice of entrée, drink, and dessert. Cost is $10 for adults and $6 for children under 14.
Caldwell Fine Arts also offers a Shadow Dance Workshop the same day in Jewett Auditorium from 1 – 3 pm where participants will learn how to make the shapes of shadow dance and enjoy a Q&A with director Adam Battelstein. Pre-registration is required and is capped at 40 participants. The cost is $10.   
Tickets for the performance, dinner, and workshop are all available online at caldwellfinearts.org or at 208-459-5275.